When the 71st annual Rotary Auction begins Monday evening for its traditional six-day run at the Memorial Building, expect things to look, sound and even smell the way Hopkinsville likes it.
The live audience will be back — as will the barbecue pork and other popular diner items that fill the building with a sweet, smokey aroma.
Last year, the coronavirus pandemic delayed the auction for several months and forced diehard Rotary Auction fans to watch or listen remotely. No one could sit down for a barbecue plate, a fish dinner or a grilled bologna sandwich.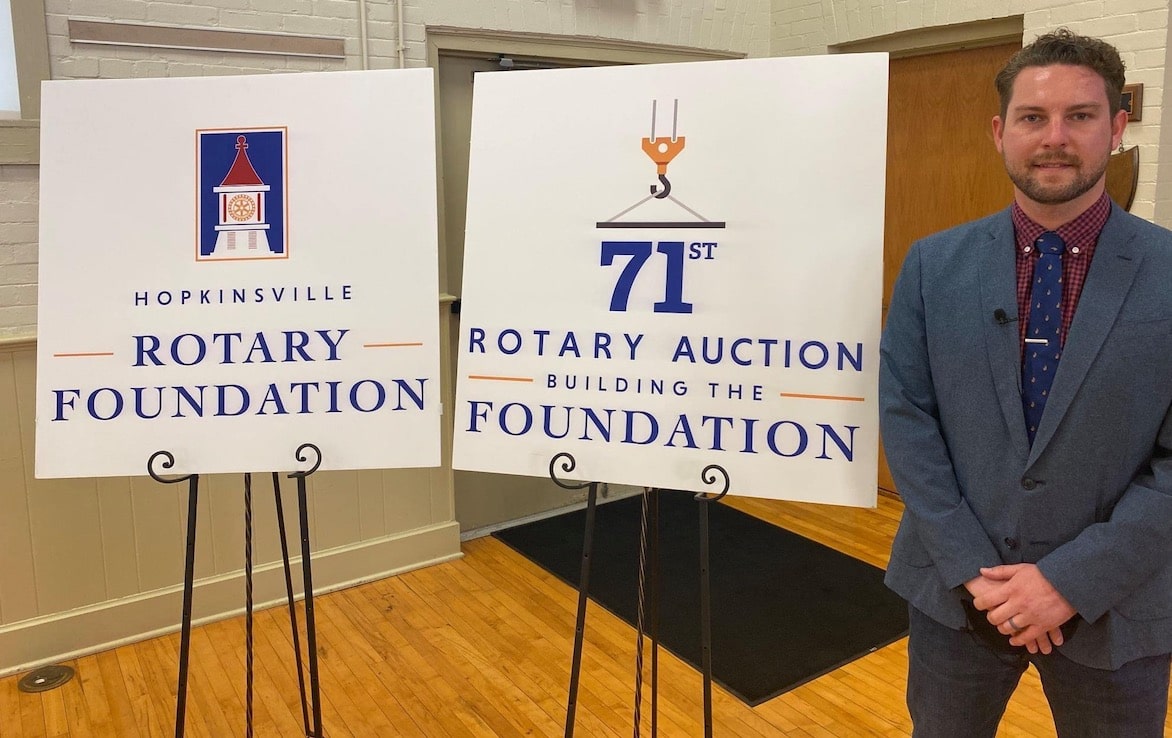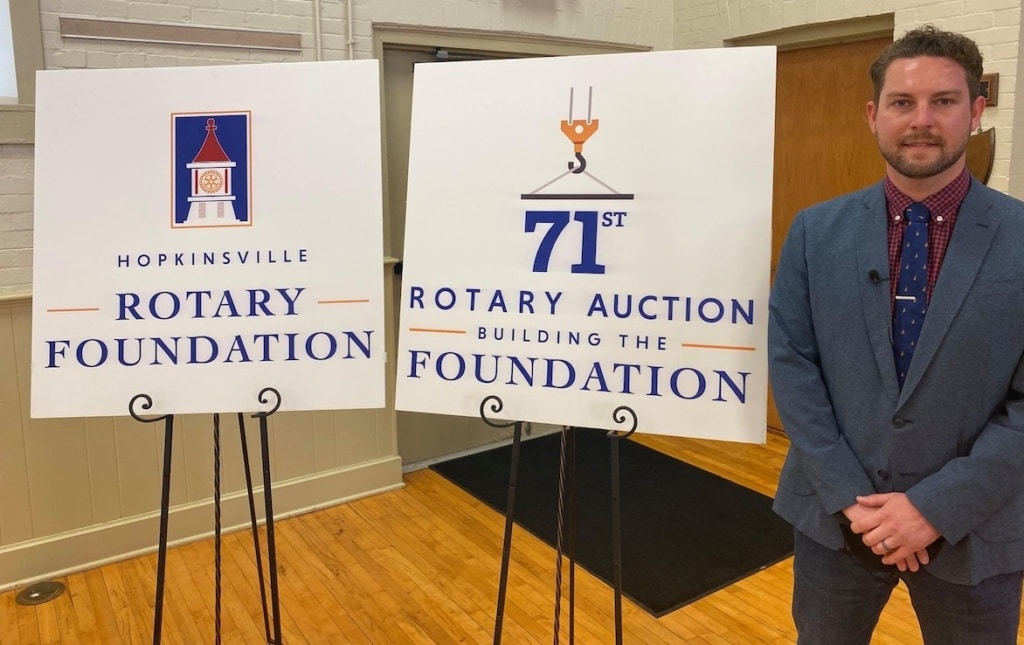 But all those favorites are in the works for the 2021 fundraiser, said auction chairman Cody Noffsinger.
"I'm excited," he said, noting the Rotarians have found ways to bring the public back while also observing the state's COVID-19 safety measures for an auction.
The most noticeable difference is a large tent, open on all four sides, with 10 picnic tables in the parking lot next to the building on South Virginia Street. A large screen TV and speakers will be set up at the tent, and a runner will take bids from diners.
The Memorial Building will be limited to 60% of its normal capacity, which is 120 people, said Noffsinger.
"We'll be monitoring that, and everybody will be wearing a mask," he said.
There will be limited seating for diners in the main auditorium until the auction starts each evening. But patrons will be able to eat in the lobby or outside under the tent throughout the week.
The auction raises money for college scholarships, including the Rotary Scholars Program at Hopkinsville Community College. Any graduate of a high school in Christian County can qualify to attend HCC tuition-free for two years. Donations can be called in at 270-885-5919.
The auction will run from 7 to 10 p.m. Monday through Thursday, 6 to 10 p.m. Friday and 6 p.m. until the last item is sold Saturday. The diner will be open for lunch from 11 a.m. to 1 p.m. Tuesday through Friday and for dinner from 5 to 8 p.m. Tuesday through Saturday.
Whole Boston butts, for $40, will be sold through the week on a first come-first served basis.
The Thursday night special will be smoked pit chicken. Fried catfish plates will be on the menu Friday.
Traditionally, auction items include everything from country hams and artwork to furniture, sporting goods, gift cards, homemade baked goods and special events.
Bidders at home can listen on WHOP, 98.7 FM, or watch on the Hopkinsville Rotary Club's website. The number to call in bids is 270-885-7500.
There's also an option this year to bid online for a limited number of Big Board items through Bolinger Real Estate & Auction's website.
Anyone who wants to donate items to the auction should call 270-886-3034.
Noffsinger said the Rotary Club hasn't set a fundraising goal this year.
Last September, with a scaled-back auction, they raised about $255,000. The 2019 auction brought in approximately $330,000.
(Jennifer P. Brown is the editor and founder of Hoptown Chronicle. Reach her at editor@hoptownchronicle.org.)