Several homes were heavily damaged or destroyed in South Christian County late Friday night and county rescue team members and sheriff's deputies began searching Pembroke and surrounding areas Saturday morning for anyone who was hurt or trapped in storm wreckage.
"We're trying to verify that no one is missing," Randy Graham, the county's emergency manager, told Hoptown Chronicle.
During a press briefing on Saturday morning, Gov. Andy Beshear called the storm outbreak "the most severe tornado event in Kentucky history."
"The primary tornado was on the ground continuously for over 200 miles in our state — something we have never seen before," Beshear said, adding that officials believed four tornadoes touched down across Kentucky.
As of early afternoon Saturday, Jennie Stuart Medical Center was treating one person who was affected by the storms, according to hospital spokesman Chris Jung, who was unable to disclose specific details.
"We had some homes destroyed — but the other counties around us, they had major destruction and apparently the loss of many lives," Graham said. He did not have an estimate yet of the number of buildings that were damaged or destroyed.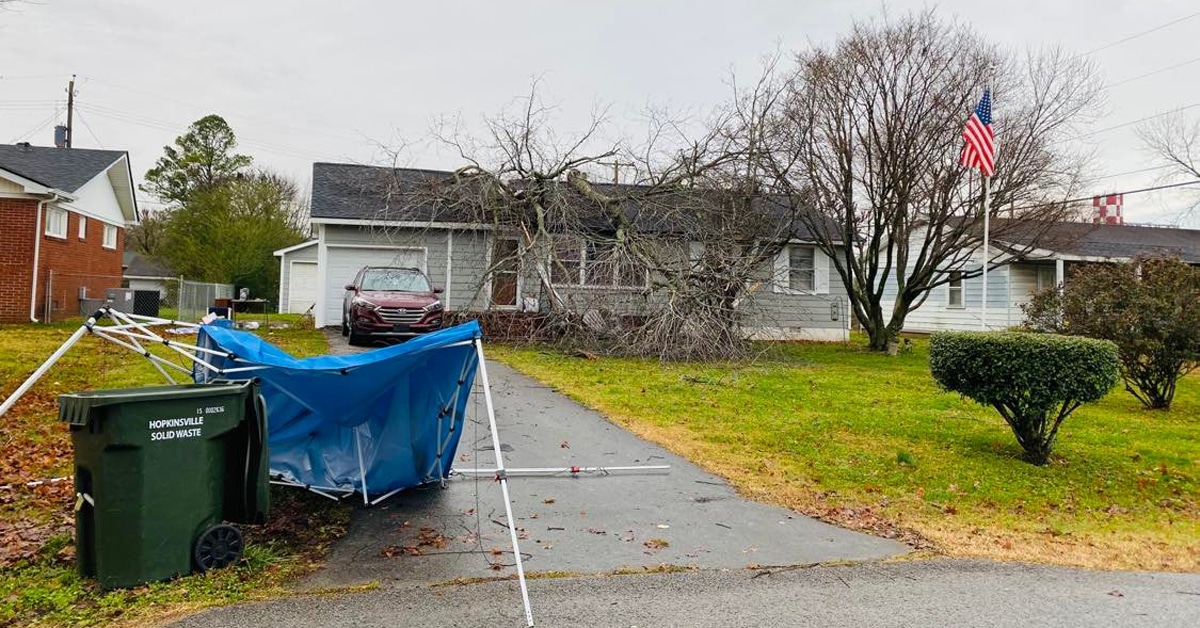 Emergency responders were clearing trees, utility poles and other debris from Christian County roads, and Graham said it was important for residents to stay in their homes. Sightseers would delay work and put themselves at risk.
"We've got a lot of electrical lines down. We need our workers able to work," he said.
Several Hopkinsville Fire Department units spent the majority of the night and morning answering calls for service throughout the city and county, including reports of people trapped, according to a post on the department's Facebook page.
"While Hopkinsville has seen minimal damage, our communities throughout the county weren't so lucky. Large trees and power lines remain down across the northern, southern, and eastern parts of Christian County," the department said in the post. "We urge everyone to please stay out of these areas if at all possible."
South Christian, Pembroke sees most severe damage
The southern part of Christian County, from LaFayette to Pembroke, saw the most serious damage, Graham said.
In Pembroke, volunteer firefighters went door-to-door immediately after the tornado hit, he said.
Several roads in the area were blocked by downed power lines Saturday morning and, according to a post to the Pembroke Fire Department's Facebook page, several of the lines were still live just after 8 a.m. The department urged residents to exercise extreme caution in the area.
Members of the community who needed a warm place or to recharge cell phones could go to the Pembroke Fire Department, the department said Saturday morning.
According to the National Weather Service, a witness reported a tornado just southwest of LaFayette at 12:15 a.m. Saturday. It appeared to cut a swath from the area of Bodie Road near LaFayette, going northeast toward Pembroke and then into Todd County.
Gov. Beshear estimates as many as 100 Kentuckians killed in storms
In a press briefing Saturday morning, Beshear said the death toll in Western Kentucky was expected to exceed 50.
"[It] will probably end up closer to 70 to 100 lost lives," he said.
"The hardest-hit county appears to be Graves, where the city of Mayfield has been devastated. A roof collapse at a candle factory has resulted in mass casualties," Beshear added, referring to the Mayfield Consumer Products plant, where he visited Saturday morning.
More than 110 employees were trapped inside the building following the collapse, a Kentucky State Trooper told WKMS.
Additional fatalities had been reported in Hopkins, Warren and Marshall counties, according to Beshear.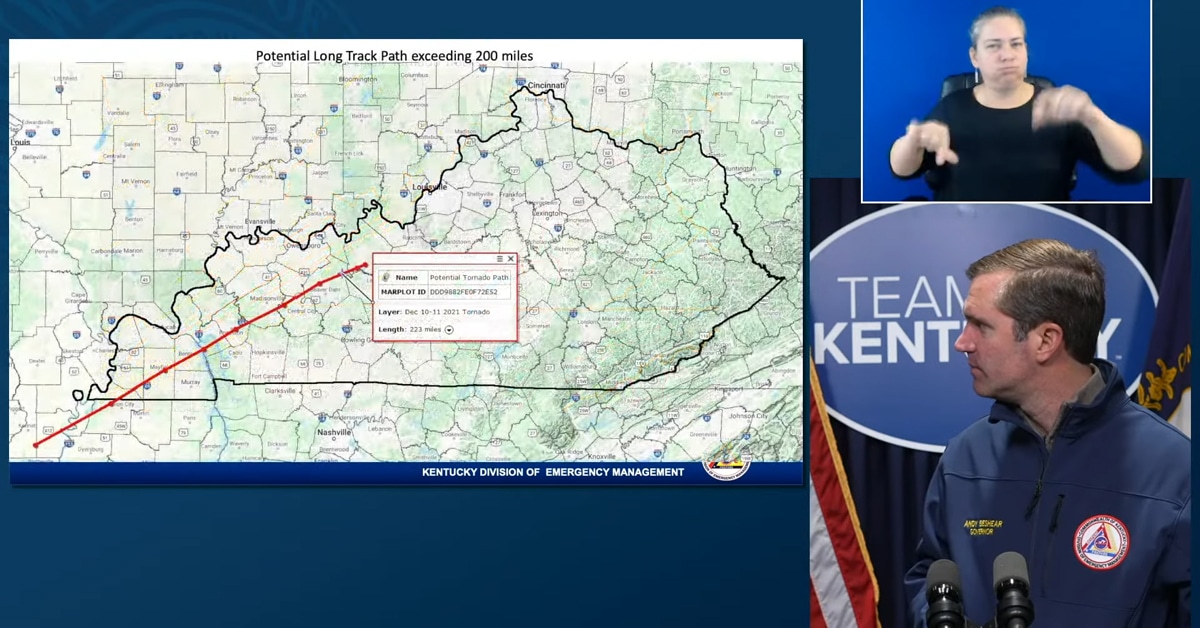 The governor said hospitals — many of which are strained because of the COVID-19 pandemic — were "in good shape," and there wasn't a concern as of Saturday morning regarding hospital capacity.
To assist with search, extraction and debris removal, 181 members of the Kentucky National Guard were activated, and the governor Saturday morning requested that President Joe Biden declare a federal state of emergency for Kentucky. The request was granted hours later, authorizing the Federal Emergency Management Agency to "identify, mobilize, and provide at its discretion, equipment and resources necessary to alleviate the impacts of the emergency."
The National Weather Services was sending out two teams Saturday morning to begin assessing damage to verify tornado activity and the severity of the storms, an official in the NWS Paducah office told WKMS. Initially, they would focus on Graves and Lyon counties, the official said.
Michael Dossett, director of Kentucky Emergency Management, said the storms would likely be more serious than the state's "super outbreak" in 1974.
Power outages, road closures widespread
At daybreak, more than 55,000 utility customers did not have electrical power, according to Beshear.
Power outages were reported across Hopkinsville and Christian County, but some areas had power restored within hours.
"Our system has sustained widespread damage that will result in extended power outages to affected members. As we continue to assess the damage, we have reports of broken poles, as well as transmission and distribution lines down," a Pennyrile Electric official said.
Of the utility's nearly 49,000 customers, approximately 6,000 were without power as of 9:30 a.m. Saturday, according to a Pennyrile Electric outage map.
At 10:15 a.m., Hopkinsville Electric Systems were working to repair a pole on East 21st Street, between S. Virginia Street and Fort Campbell Boulevard. The power in the area was expected to be down while repairs were made.
HES also noted Skyline Drive near Hopkinsville Elevator was closed due to a downed electric line.
Hopkinsville holiday events proceed; Crofton parade postponed
Hopkinsville recreation officials said Saturday's downtown events — Skatin' on the Square beginning at 1 p.m. and the Christmas parade at 5:15 p.m. — were still on. There is no severe weather in the forecast for the rest of the weekend.
The Crofton Volunteer Fire Department announced Saturday morning that its Christmas parade would be postponed to Dec. 18.