Hopkinsville police filed a report Monday of a possible threat against a county health official who tried to enforce a state coronavirus order at a restaurant that has now operated for three days on a suspended permit.
The report lists a suspect who commented on a Facebook post created by the owners of The Village Restaurant after their food service permit was suspended Friday.
In the Facebook comment that apparently prompted County Health Director Kayla Bebout to call police, the person said, "That health department inspector could have an accident if they aren't real careful."
The name of the suspect, who has not been charged, was redacted from the report provided to Hoptown Chronicle.
Officer Joseph Bufford listed the offense as third-degree terroristic threatening, a misdemeanor punishable by up to 12 months in jail and/or a fine up to $500.
Police Chief Clayton Sumner said officers were trying to verify the identity of the commenter. Typically in a misdemeanor threat case, police would not make an arrest, he said. Instead, the person filing the complaint would seek charges through the county attorney's office.
Restaurant owners Chris and Krystl Martinez began serving customers in a parking lot tent near their front door after Gov. Andy Beshear issued an executive order closing restaurants to indoor dining Nov. 20 through Dec. 13. The purpose of the restriction on food and beverage businesses is to bring down the escalation of COVID-19 cases.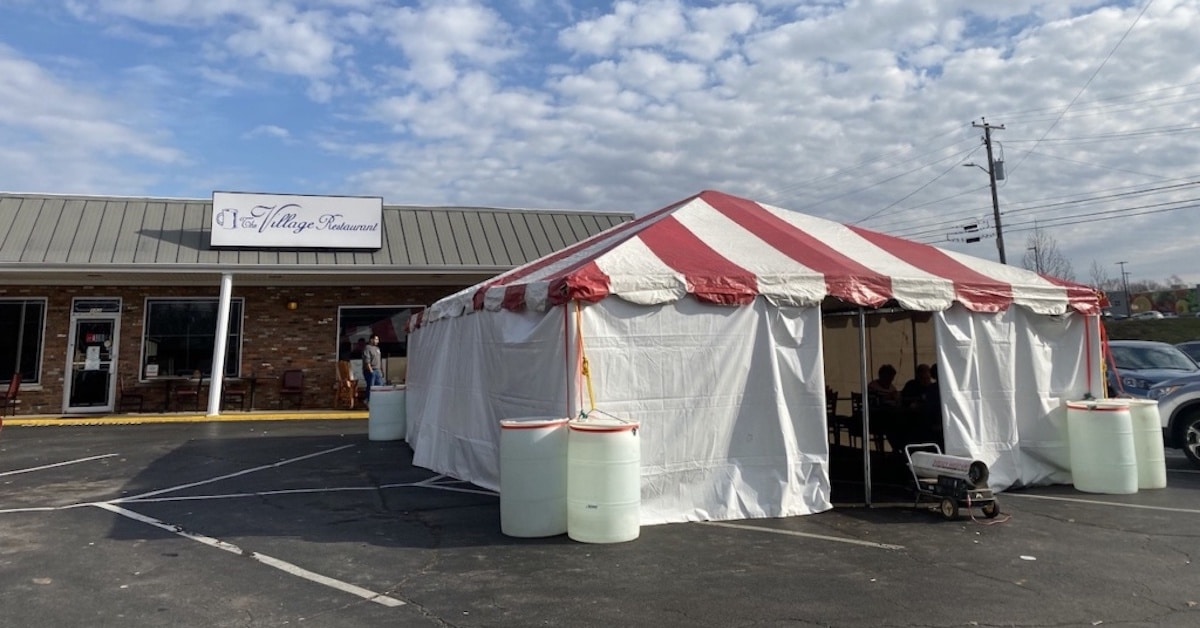 The health department said the tent must be completely open on two sides. The owners have refused to do that. Instead they have a doorway-size opening on one side and an opening roughly one-third of a side opposite that.
On Friday, a health inspector suspended the restaurant's food service permit. But the owners remained opened in the tent for breakfast and lunch Saturday, Sunday and Monday.
Chris Martinez posted a copy of the enforcement notice and a state form on restaurant regulations to the Facebook page with a post thanking customers for their support.
"We will continue to serve the community no matter what," he wrote.
Dozens of people commented on the post and it was shared by hundreds of Facebook users. Almost everyone commenting was supportive of the restaurant owners. Many complained about what they see as government overreach.
The escalation of the virus is not mentioned, but on Monday the number of active COVID-19 cases in Christian County reached a record high of 638. In the past two weeks, the health department has reported 10 virus-related deaths.
In a "Meet the Press" interview Sunday on NBC, Dr. Debora Birx, the coronavirus response coordinator for President Trump, warned that the country faces its greatest crisis in the coming weeks.
"Every state across this country needs to increase their mitigation and every state needs to be critically informing their state population that the gatherings we saw on Thanksgiving will lead to a surge — it will happen this week and next week," Birx said. "We cannot go into the holiday season — Christmas, Hanukkah, Kwanza — with the same kind of attitude that: 'Those gatherings don't apply to me.' They apply to everyone, if you don't want to lose your grandparents, your aunt."
Across the country, local and state health officials have been threatened and harassed over coronavirus restrictions.
In late August, the Grayson County heath director in Leitchfield stopped providing daily coronavirus updates on his agency's Facebook page after commenters threatened staff members. One comment included a death threat, the Lexington Herald-Leader reported. 
Bebout declined to comment about the police report. She said the health department is working with state officials on how to address the restaurant operating without a permit. "We will follow regulations and guidances given by the state," she said.