A Hopkinsville restaurant continued to serve customers in a parking lot tent on Sunday despite action Friday by the Christian County Health Department that suspended the business owner's food service permit.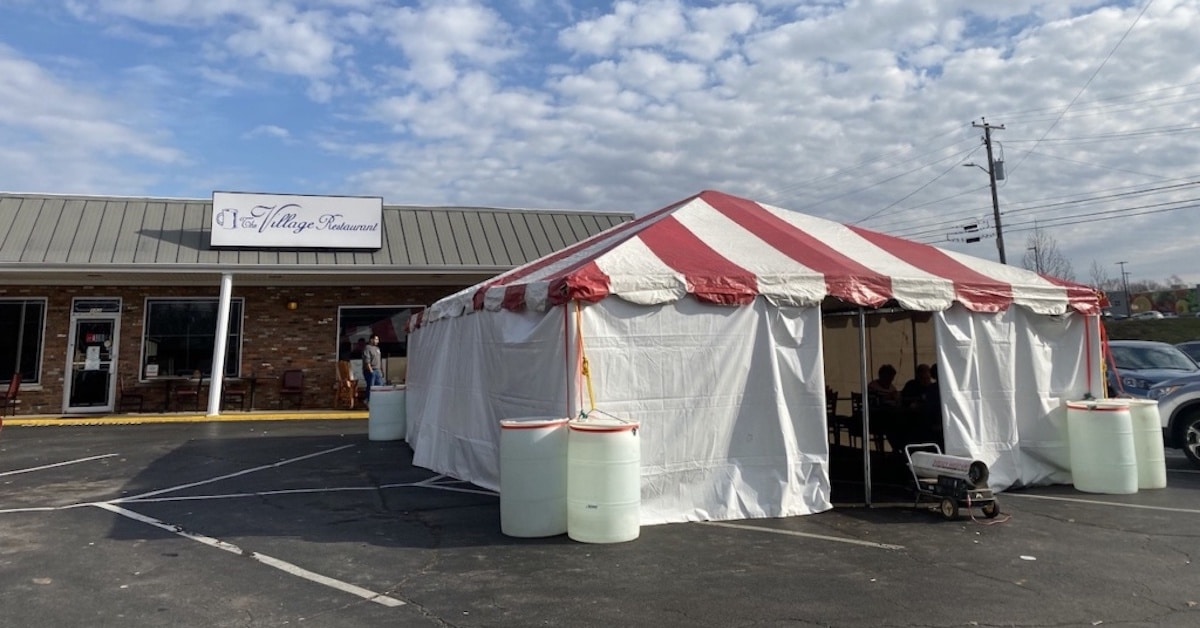 Chris Martinez, of The Village Restaurant at 100 Navajo Trail, posted a copy of the health department's enforcement notice on his restaurant's Facebook page Saturday and announced he would not be closing. He owns and runs the restaurant with his wife, Krystl Martinez.
The dispute is apparently over the size of side openings on the tent following Gov. Andy Beshear's executive order that halted inside restaurant dining Nov. 20 through Dec. 13 because of an escalation of COVID-19 cases.
Two sides of a dining tent must be completely open, said Christian County Health Director Kayla Bebout.
"He had been given a warning" and was provided information about how to keep the business compliant with the state's order on restaurants, Bebout told Hoptown Chronicle.
Chad Burch, the health department's environmental manager, visited the restaurant more than once. A state health official accompanied him Friday, said Bebout.
In his Facebook post, Martinez wrote, "Thank you to our loyal customers for supporting us during these tough times, supporting our business and tent. We will continue to serve the community no matter what. On Friday our food service license was suspended."
He wrote that the suspension was due to "non-compliance" with tent guidelines. He contends that the health department's explanation of the tent regulation did not match a state flyer on restaurants and tents.
Martinez concluded, "We will continue our tent service as long as the community continues to support us."
To qualify as outdoor seating, "at least two (2) sides of tent must remain open and six (6) feet of space must be maintained between customers at different tables," according to the state's flyer.
"If 2 sides of the tent are not open, the tent is considered interior space and may be used at 50% of its potential seating capacity," according to the guidance.
The Village had several customers eating in the tent Sunday around lunchtime. The tent had a standard door-size opening on one side, through which an outdoor space heater was aimed. Opposite that, there was an opening roughly one-third of the tent's side.
By early afternoon Sunday, the restaurant's Facebook post had been shared more than 160 times. Dozens of people expressed support for the restaurant, or for small businesses in general.
Bebout said she is aware of complaints alleging the health department is trying to shut down local businesses.
That is not the case, she said. The health department attempts to provide information so businesses can follow the executive orders and guidelines that would allow them to stay in business, she said.
Bebout said she would provide more information Monday morning about the department's enforcement notice to The Village.
The health department told the restaurant owners that the county attorney's office will look at the case if they operate the restaurant without a permit, Krystl Martinez told Hoptown Chronicle. They don't plan to hire an attorney, she said.
Asked why the restaurant did not fully open two sides of the tent, she said repeatedly that two sides of the tent were open.
The restaurant, in the small shopping center at Canton Street and Navajo Trail adjacent to the Indian Hills Shopping Center, is normally open for breakfast and lunch seven days a week and has dinner specials on Fridays.
This story has been updated to include comments from Krystl Martinez, who owns and runs with restaurant with her husband.