Retired Hopkinsville educator Clyde Wallace died Wednesday afternoon at Jennie Stuart Medical Center, where he was being treated for coronavirus, according to a website detailing his battle with COVID-19.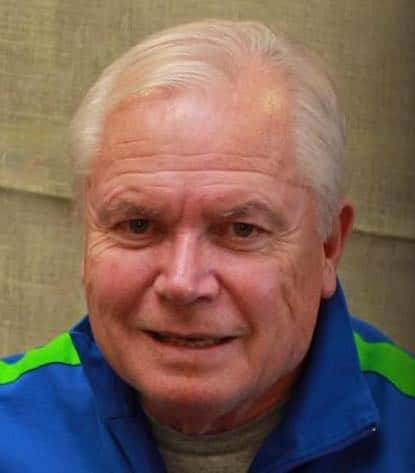 His son, Taylor Wallace, who had been providing news of his father's treatment from his home in Washington, D.C., returned to Hopkinsville to be with his father before he died. 
At 4:25 p.m., ReGina Morris, who worked with Wallace at the public school system's central office, shared this message on the PostHope website: "Clyde passed away peacefully with Taylor by his side. Continual prayers for Taylor and Clyde's family and friends. He touched so many lives! He was a gift from God to us all!"
Earlier in the day, Taylor Wallace said he would be carrying final words from friends to read to his father in the hospital.
"I'm going to try to share all of the notes and messages everyone has sent the last few days … and I'll hold his hand the whole time," the son wrote.
Wallace, 71, tested positive for COVID-19 on Nov. 16. He was hospitalized on Nov. 19, and initially, his son thought he might only need fluids and some time in a regular hospital room to regain his strength. But shortly after he arrived at Jennie Stuart, his breathing became labored and his heart rate was elevated, Taylor Wallace told Hoptown Chronicle. He was sent to the hospital's intensive care unit to be placed on a ventilator.
Wallace had Parkinson's disease and diabetes, both of which are serious complications for COVID-19 patients. In the first week of Wallace's hospital treatment, the son remained hopeful his father could recover. But on Tuesday, Taylor Wallace told friends he was headed back to Hopkinsville, expecting to see his father for the last time.
The hospital agreed to let Taylor Wallace be with his father at the end of his treatment because he is in good health, he said in a post to friends. A food scientist, Taylor Wallace is involved in a research project to determine best practices for COVID-19 patients in hospitals.
Wallace, a native of Christian County, was raised on his family's tobacco farm. He began his teaching career in the early 1970s at Morningside Elementary School. He was later principal of Belmont Elementary and finished his career as an assistant superintendent in the central office.
Several people who knew Wallace through his work wrote messages in the online journal his son created.
"Clyde always offered sage advice whether solicited or not. I fondly remember his candor and his snazzy outfits too. A great member of the 'old guard' in the CCPS," Lisa Champion wrote.
Carolyn Haddock, who was a guidance counselor in the schools, wrote, "Of all your Dad's amazing accomplishments, there was one that rose above the rest — You! He couldn't have been prouder of you! I loved the way he always spoke of you with a voice of pride that is so easy to recognize. Prayers for you as you travel home …"
District retiree Vickie Cotthoff wrote, "He made a huge difference in the lives of so many and made us laugh with his quick wit and fearless leadership."
Wallace was the first seriously ill coronavirus patient in Hopkinsville whose story was widely shared during his treatment. Shortly after his father was hospitalized, Taylor Wallace said he hoped the story would make others aware of the seriousness of the disease.
Since the pandemic began, the Christian County Health Department has reported 3,082 cases of COVID-19 and confirmed 49 deaths — not including Clyde Wallace.