The monoclonal antibody program in Kentucky — including at Jennie Stuart Health — has all but come to a halt.
Late last month, two of the three FDA-authorized monoclonal antibody treatments for COVID-19 were deemed ineffective against the raging omicron variant, ceasing shipments of those antibodies to the commonwealth, Kentucky Public Health Commissioner Steven Stack announced on Jan. 3.
It has made the availability of the third authorized monoclonal antibody, Sotrovimab, extremely limited, Jennie Stuart Health spokesman Chris Jung said Tuesday in a news release. Unless supplies increase or new antibodies are developed, many treatment locations — including Hopkinsville's hospital — will not have monoclonal antibodies to offer at their sites.
Jennie Stuart had been frequently administering the treatment and making it available to qualified patients from around the region but is no longer receiving shipments, according to the release.
Kentucky Public Health Commissioner Steven Stack said the ineffectiveness of the two antibody treatments has made it even more important for Kentuckians to get vaccinated against COVID-19.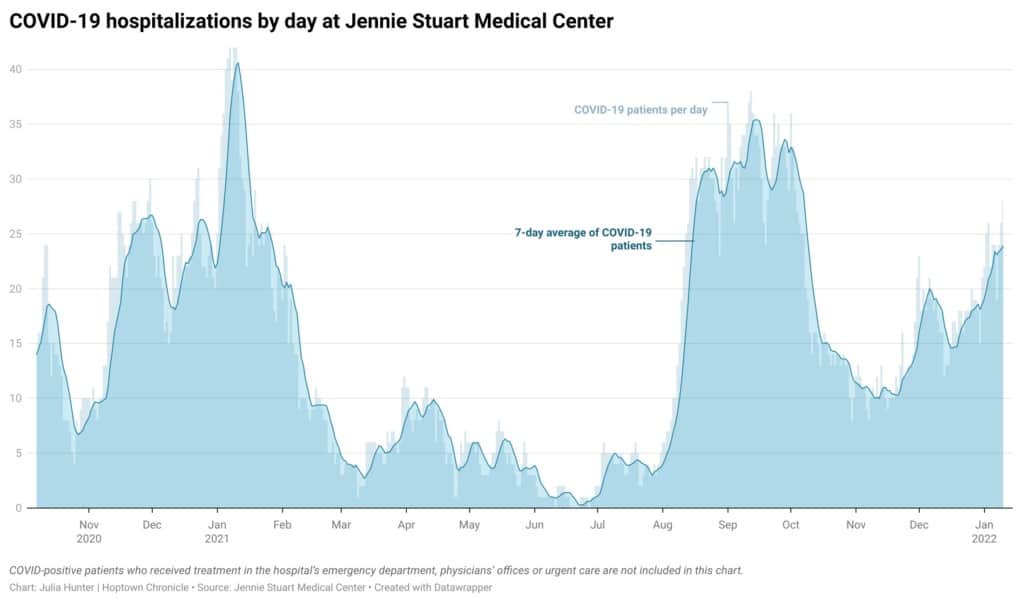 "Because we've lost those monoclonals, those vaccines are just so important, because the vaccines do work against omicron," Stack said during a Jan. 3 press conference. "And all the evidence still supports that they're keeping people out of the hospital and out of the ICU."
As of Tuesday, just 37.35% of Christian County residents had completed an initial vaccine series. The county has one of the worst vaccination rates in Kentucky.
Meanwhile, COVID-19 hospitalizations at Jennie Stuart have increased 47% in the last two weeks, as the county and state experience near-vertical case growth. On Monday, there were 28 coronavirus patients hospitalized at Jennie Stuart Medical Center, according to hospital spokeswoman Jayme Tubbs.
During the most recent delta surge — when Jennie Stuart's COVID-19 hospitalization totals were in the 30s — the hospital struggled to admit or transfer some patients, as the state's hospitals filled up.
On Tuesday, 1,953 Kentuckians were hospitalized with COVID-19, up 80 from Monday and an increase of 47% from two weeks ago. In nine of 10 regions, intensive care units were at more than 80% capacity. In Christian County's Region 2, ICU capacity was at 84%.
A monoclonal antibody is a laboratory-made protein that mimics your immune system's ability to fight off harmful viruses that can cause disease. It is a treatment that may make COVID-19 less severe and hasten recovery but isn't a substitute for the COVID-19 vaccine, the release stated.