As COVID-19 cases continue to skyrocket — prompting a high demand for testing and vaccines — the Christian County Health Department has ceased its contact tracing efforts, the agency announced Thursday.
"The combination of the undocumented number of at-home tests, the increased transmissibility of the omicron variant, plus the shortened period of contagiousness with this strain has made tracking active cases less reliable," health department spokeswoman Cloie Rager said in a news release on Thursday. "As we move forward, CCHD is shifting our focus to data entry and reporting for COVID-19 and the other 100 reportable diseases CCHD is responsible for tracking while encouraging individuals and employers to be responsible, follow necessary guidance, and take precautions to keep our community safe."
The department urged members of the public, as well as local businesses and organizations, to follow necessary guidelines to mitigate the spread of COVID-19.
Quarantine and isolation guidance
Residents who are waiting on coronavirus test results should be proactive in isolating themselves from others and wearing a mask, the release stated. The agency will no longer be able to provide quarantine letters but noted a positive test result should be sufficient for employers.
"We understand that it can be frustrating to find testing and to wait for test results, please understand that many labs are running behind during this surge and CCHD staff are working hard to meet this increased demand," Rager said. "If you are exposed, waiting for COVID-19 test results, or are experiencing symptoms, please do not wait to hear from the Christian County Health Department to begin your isolation or quarantine."
Individuals who have tested positive for the virus or have been in close contact with someone who has should follow guidelines outlined by state and federal health officials: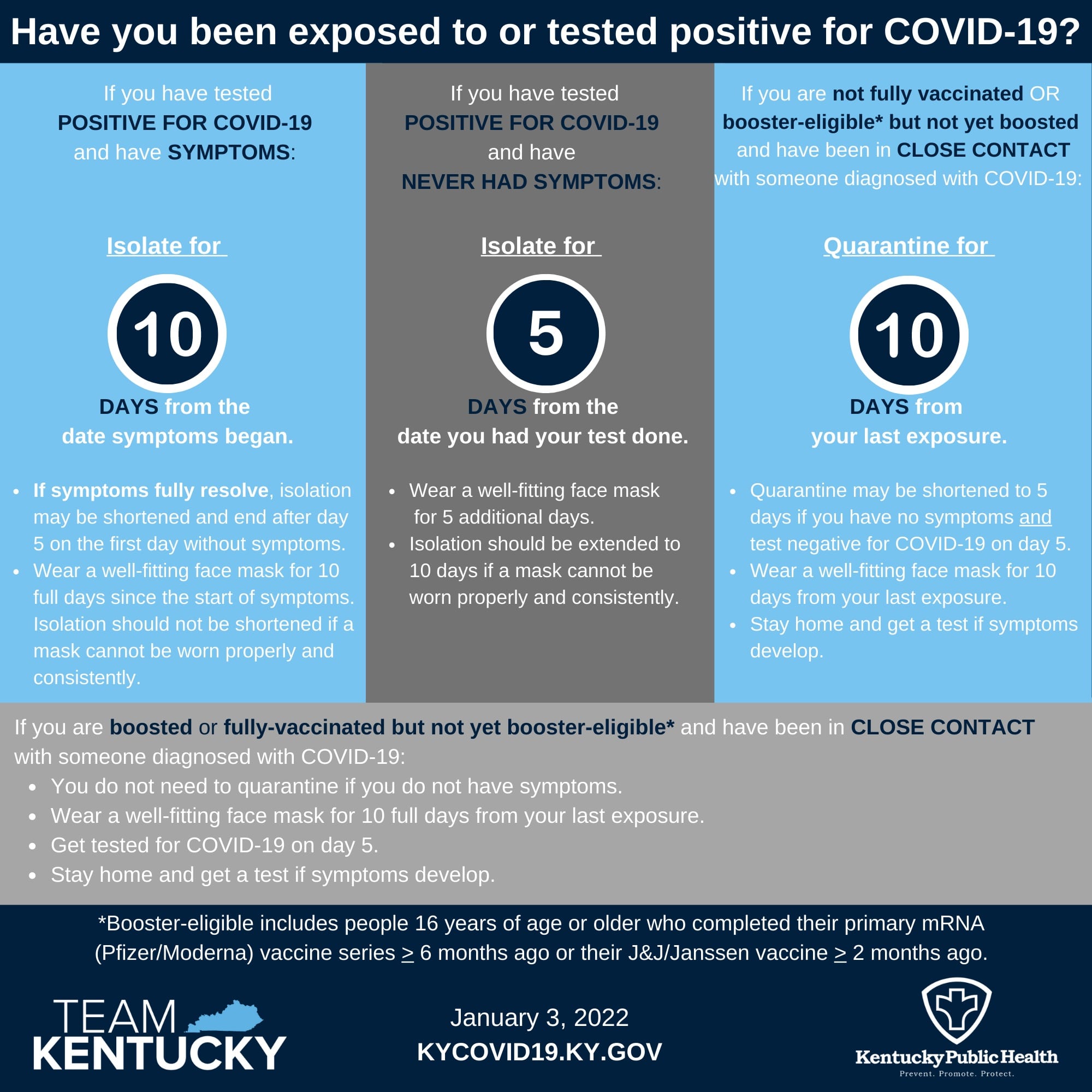 Continued spread prompts closures
For the third week in a row, Christian County set a record for the number of new COVID-19 cases on Thursday, with the department confirming 1,108 residents testing positive.
Mirroring a statewide trend, a quarter of the new cases this week were among individuals 18 and younger.
The rapid spread has prompted some local agencies to cease in-person services.
Christian County Public Schools announced it would continue virtual learning on Friday, following a weather-related closure on Thursday. The district cited "critical staffing levels," due to illness from COVID-19. City Hall also closed on Thursday and Friday in an effort to mitigate the virus's spread.
COVID-19 tests
The health department continues to provide COVID-19 testing at no charge from 7:45 a.m. to 2:30 p.m. Monday through Thursday.
Results are typically returned in 48 to 72 hours, but lab results could be delayed due to the increased demand and surge in COVID-19 cases, Rager cautioned, asking for the public's patience as the department works to notify individuals of their results.
Testing also is being conducted at JennieCare, local physicians' offices and area pharmacies, like Walgreens and CVS. (Find a COVID-19 test site here.)
COVID-19 vaccines
The best way to protect against severe illness from the highly transmissible omicron variant is by getting a vaccine and booster, health experts agree.
"With this recent surge, it's more important now than ever to get your COVID-19 vaccine or booster," Rager said in the release.
The health department offers COVID-19 vaccines for individuals 12 and older from 7:45 to 4 p.m. on Tuesdays and Thursdays. Pediatric vaccines, for children 5 to 11 years old, are available from 7:45 to 4 p.m. on Wednesdays.
Walk-ins are accepted, but appointments can be made online at christiancountyhd.com.