When family members began arriving at Christian Health Center on Tuesday morning to visit residents of the nursing home, a staff member met them at the door to explain that regular visitation was on hold. An employee, who did not have contact with residents, had just tested positive for COVID-19.
The facility shifted immediately to scheduled, outdoor visits with masks required for residents and visitors. Those unable to leave their room must visit with family members through a window, using cellphones to speak.
The employee who tested positive was placed in quarantine and has mild, cold-like symptoms, said Mary Lynn Spalding, CEO of Christian Care Communities, in an interview Thursday with Hoptown Chronicle. The nonprofit, which is affiliated with the Christian Church (Disciples of Christ), has 11 skilled nursing facilities in Kentucky.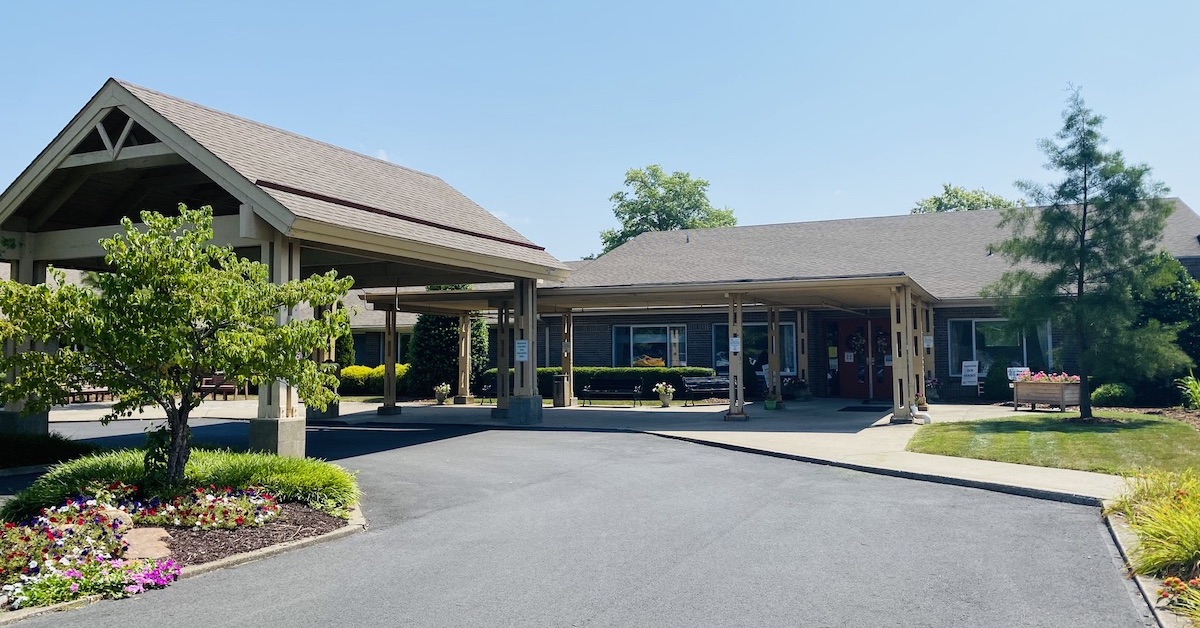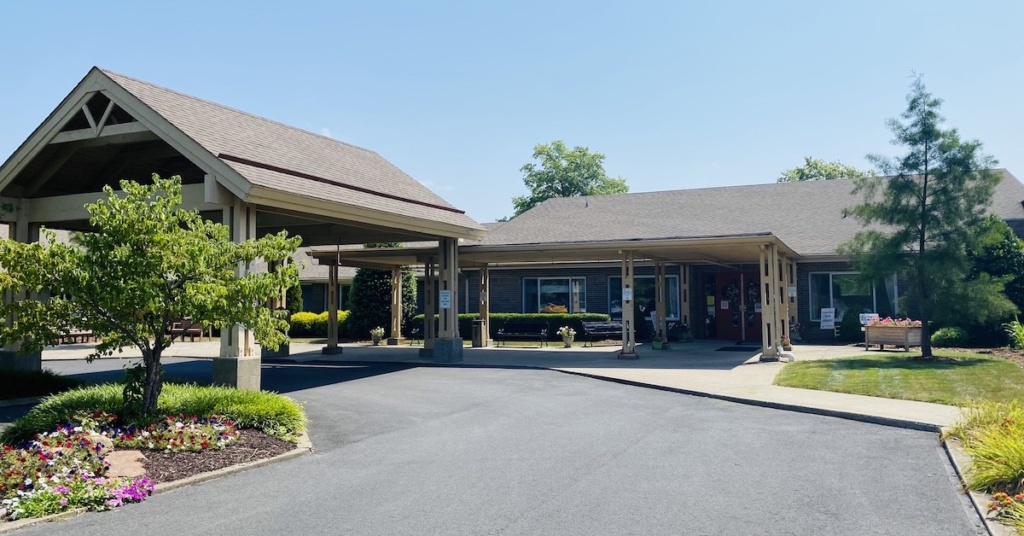 "We have seen, just as the [coronavirus] maps would indicate, small outbreaks in several of our communities," Spalding said, referencing COVID-19 cases confirmed at Christian Care Communities locations in Louisville, Bowling Green, Midway and Corbin.
Louisville and Midway have returned to regular visitation after two weeks without any new cases, and Bowling Green and Corbin are on track to soon reopen to visitors, she said.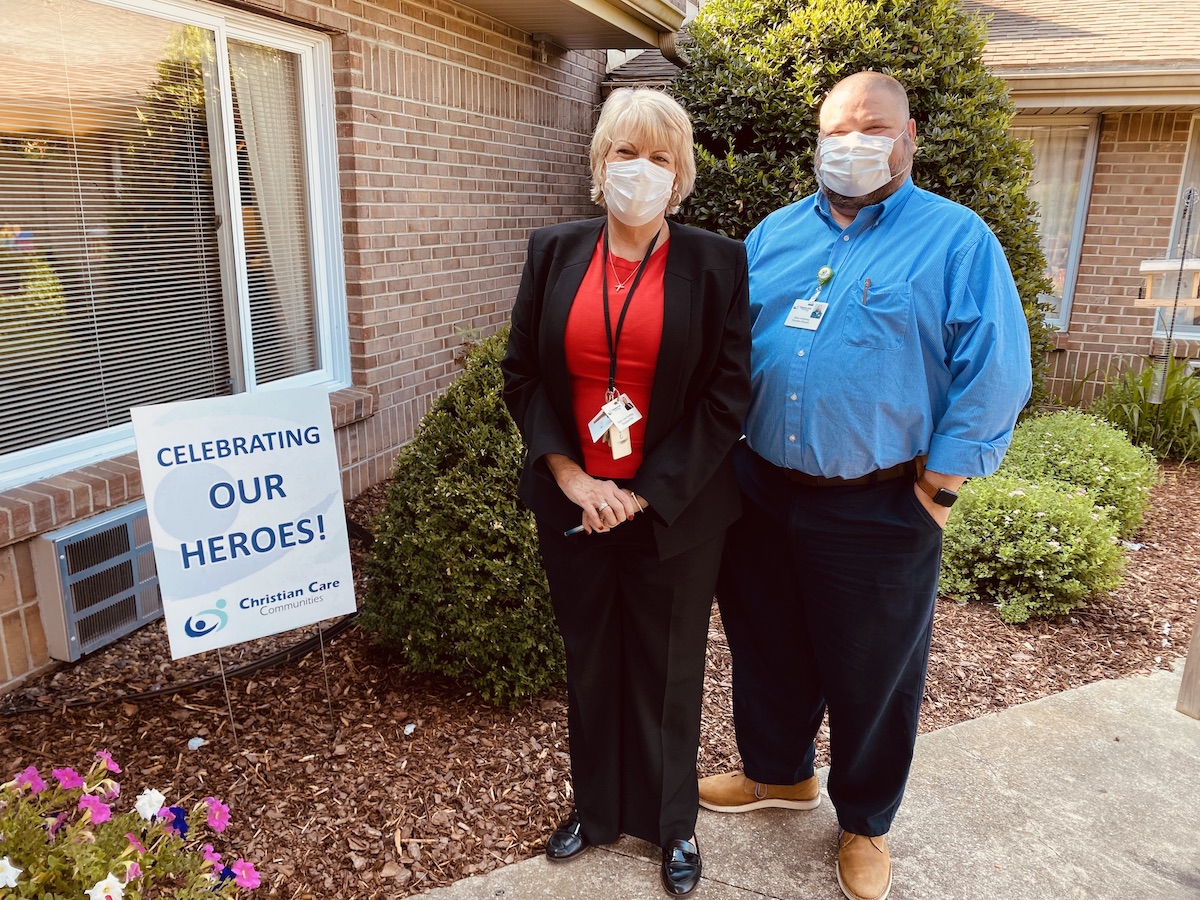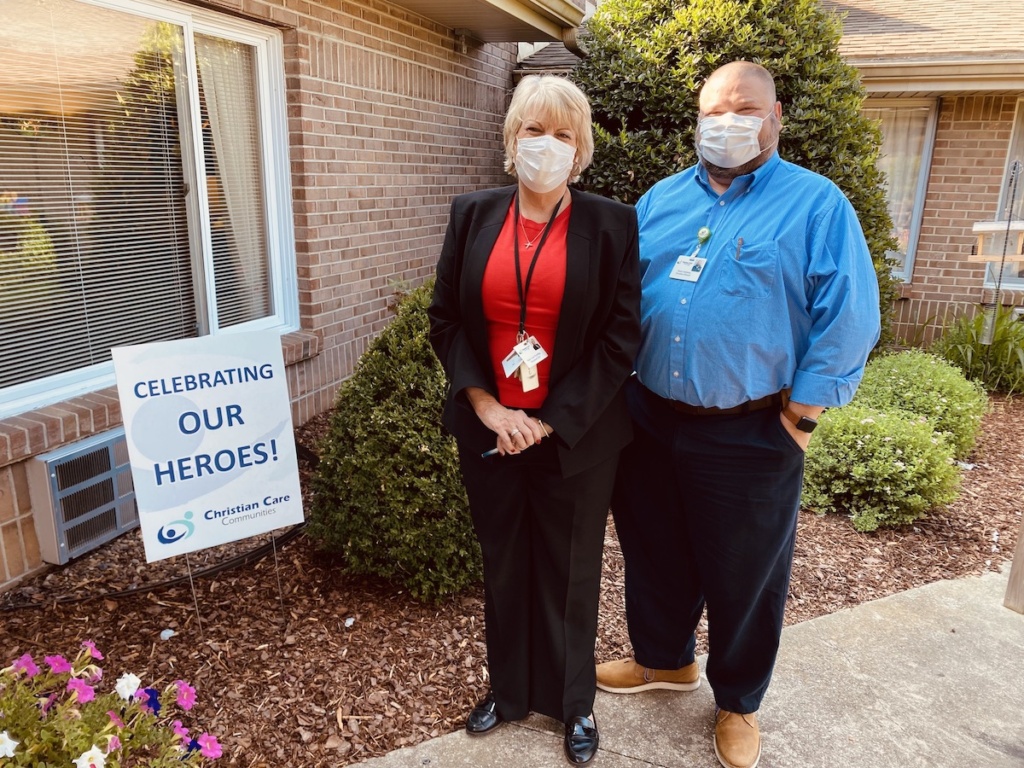 Spalding credits employees at the Hopkinsville location with reacting immediately to the employee's infection so they could minimize the risk of the virus spreading to others in the nursing home. She believes it indicates how much skilled nursing facilities have learned about managing infectious disease during the pandemic.
"I don't know a positive way to say it, but we are really good at managing COVID and infectious disease. Not that we weren't good before, but everyone is so well attuned to it now," she said.
Christian Health Center is testing employees and residents for COVID-19 twice a week because Christian County is in the coronavirus red zone, which indicates a high level of virus transmission in the community. As of Thursday, no one else at the nursing home had tested positive.
"If we don't identify any additional positive cases, we will resume our normal indoor visitation in approximately two weeks," she said.
Spalding, who was in Hopkinsville on Thursday to conduct meetings with all of the employees, said employees are anxious, as they should be. The administrators want the staff members to be on guard.
"It's a very challenging time," Spalding said.
Of the group's locations, Christian Health Center in Hopkinsville was hit especially hard during the earlier waves of the pandemic. In 2020, 98 residents tested positive for the virus — which was nearly all of those living at Christian Health Center, Spalding previously told Hoptown Chronicle. Of those, 14 died of COVID-19.
Early on, long-term care residents in Kentucky accounted for a hugely disproportionate share of COVID-19 deaths. As of Dec. 31, nearly 75% of all virus-related deaths had been among nursing home residents, despite constituting just 5% of all confirmed cases.
Preliminary data shows uptick in long-term care cases
By-mid June, it looked like a return to normalcy was on the horizon for Kentucky's long-term care facilities. Following high levels of vaccination among residents and a period of strict precautions, cases and deaths had all but disappeared from the state's nursing homes.
But it appears the delta variant may hinder some of that progress.
While numbers still remain low compared to the devastating infections and deaths early on, preliminary federal data shows an uptick in COVID-19 at nursing homes over the last several weeks.
As of Aug. 1, the rate of virus cases among residents had grown from 0.2 per 1,000 resident-weeks, a measure of occupied beds per week, to 3.9, according to data from the Centers for Disease Control & Prevention. Cases among staff had increased from 0.45 to 4.26.
Nationwide data suggests a similar trend, albeit at a slower pace than seen in the commonwealth, with resident cases across the country up 0.3 to 1.45 and staff cases up 0.44 to 2.95 over the same period.
As of July 25, there hadn't been any confirmed COVID-19 cases at Christian County's certified nursing facilities for more than a month, according to the most recent local data available from the CDC.
But without the state's daily report, which was discontinued on June 19, the only public COVID-19 tracking information for area nursing homes is already nearly two weeks old by the time it's released. It also doesn't include facilities that aren't certified by the federal government.
Less than half of Kentucky's nursing home staff vaccinated
When Kentucky's vaccine distribution efforts began at the end of last year, state health officials prioritized these facilities, citing the death rate among residents.
Since then, residents have been inoculated at a much higher rate than the state's average, with 81% receiving vaccines as of July 25, according to the CDC.
But long-term care staff — a group that had witnessed some of the most devastating effects of the pandemic but only accounted for 0.3% of virus-related deaths at the time — have been far more reluctant to get immunized. Just 49% have been vaccinated.
Although early research suggests the vaccine's effectiveness against delta compared to the original strain of coronavirus is somewhat diminished, health experts agree they are still highly effective at preventing severe illness, hospitalization and death from the variant.
It has prompted some facilities to mandate vaccines for staff, a trend also on the rise among hospitals and other businesses.
Christian Care Communities has not yet taken such measures.
"We are currently making COVID-19 vaccinations available to both staff and residents," Spalding said. "While we strongly encourage COVID-19 vaccination we do not currently mandate the immunization."
As of July 18, just 39% of employees at the Hopkinsville facility had received the vaccine, according to CDC data. Twice the percentage of residents, or 78%, have been vaccinated.
Last week, state health officials announced that universal masking will be required in all state-run health care facilities, including veterans nursing homes, effective Aug. 3. All contractors and state employees working in the facilities will also be strongly encouraged to be fully vaccinated against COVID-19 by Oct. 1, said Cabinet for Health and Family Services Secretary Eric Friedlander. Unvaccinated staff will be tested at least twice weekly.
"Despite all of our efforts, this virus has claimed lives in our facilities, just as it has in facilities across America, and it threatens to do so again," Friedlander said at a news conference. "Increasing the vaccination rate and/or testing rates for staff is a critical next step to ensure that we defeat this COVID variant and provide the best protection possible for the people who receive care in our facilities."
Hoptown Chronicle is an independent, nonprofit news outlet that is dedicated to providing fair, fact-based reporting for people who care about Hopkinsville, Kentucky. We believe that public service journalism serves the community's social, cultural and economic wellbeing by fostering knowledge, connection and meaning.