Hoptown Chronicle will continue to compile resources for individuals in need and those wishing to help with the recovery effort following the storms that swept through Western Kentucky late Friday and early Saturday. Know of something we should add to this list? Email us.
Gift Cards for Compassion
The Gift Cards for Compassion campaign asks individuals, businesses and organizations to donate gift cards for families who need help purchasing daily necessities and a way to provide Christmas gifts.
The campaign is a joint effort of the Christian County Chamber of Commerce and the South Western Kentucky Economic Development Council, in collaboration with Christian County Public Schools, Pennyrile Area Development District and Hopkinsville YMCA.
Gifts cards can be dropped off at the Chamber of Commerce, 2800 Fort Campbell Boulevard, weekdays through Dec. 23 and at the YMCA, 7805 Eagle Way, every day except Christmas through Dec. 30.
Western Kentucky Toy Drive
Gov. Andy Beshear and first lady Britainy Beshear are organizing the Western Kentucky Toy Drive to provide holiday gifts for children. Toys, books, electronics and $25 VISA and Mastercard gift cards will be collected through Dec. 18.
Gifts should be new and unwrapped. Here is a list of locations to drop toys.
Kentucky Sports Radio and Kentucky Chamber Foundation
Kentucky Sports Radio and the nonprofit Kentucky Chamber Foundation are partners in the Tornado Relief Fund to help Kentuckians rebuild from damages sustained in the Dec. 10-11 storms.
Donations can be made on the Go Fund Me page or by sending a check to the Kentucky Chamber Foundation, 464 Chenault Road, Frankfort, KY 40601, ATTN to Tornado Relief Fund.
Tornado relief for farmers
Anyone who is able to help farmers hit by the storm may drop off materials at Hutson John Deere, 2804 Pembroke Road, Hopkinsville, or H&R Agri-Power, 843 E. Broadway, Mayfield.
In Hopkinsville, contact May Beth Pyle at 270-886-3994 for additional information.
Donated items needed include:
fencing supplies
tarps and tarp nails
bungee cords and ratchet straps
rope
livestock mineral
bagged cattle feed
feed troughs
large and extra large work gloves
new or gently used work boots
coveralls
work coats
chainsaws and extra chains
chainsaw oil and gas
fuel cans
diesel and gas
batteries
flashlights
tools of any kind
hammers
fence testers
metal fence post drivers
metal
lumber
Pembroke Fire Department
The Pembroke Fire Department, 118 Maple St., announced Saturday that due to limited space it can no longer accept food or clothing donations.
In a Facebook post, the department thanked the community for the outpouring of support and said that monetary donations (cash, check, gift card) can still be made to the department, which will disperse contributions to the families within our community who were affected as needs arise.
Hopkinsville-Christian County YMCA
The Hopkinsville-Christian County YMCA, 7805 Eagle Way, is accepting monetary donations and contributions of supplies. Items needed include:
gift cards (Walmart, Kroger, restaurants, gas)
granola bars
crackers
pudding cups
fruit cups
chips
pretzels
pop tarts
cans of pork n beans
beanie weenies
ramen
other pantry items
hygiene products
shampoo & conditioner
toothbrushes & toothpaste
deodorant
soap
razors
other hygiene products
ECC Hopkinsville-Christian County
The Hopkinsville-Christian County Emergency Communications Center is collecting items to assist those families in Christian and surrounding counties struggling to restore their lives and homes. Suggested donation items include
coats
hats
scarves
gloves
socks
non-perishable food items
household cleaning supplies
hand sanitizer
personal hygiene items
blankets/linens/towels
paper goods (paper towels/plates/toilet paper etc)
Donations should be new or very gently used and newly cleaned.
ECC is also helping the Christian County Animal Shelter with donations of:
dog/cat food
cat litter
dog/cat beds
outdoor dog and cat shelters
equine feed
bottled water
Hopkinsville Brewing Co.
Hopkinsville Brewing Co., 102 E. Fifth St., is accepting donations for distribution to communities impacted by the storm during normal business hours ( 4 to 9 p.m. Monday through Thursday, 2 to 10 p.m. Friday and noon to 10 p.m. Saturday. Individuals who would like to drop off items outside of normal business hours should message the brewery on Facebook.
Requested items include: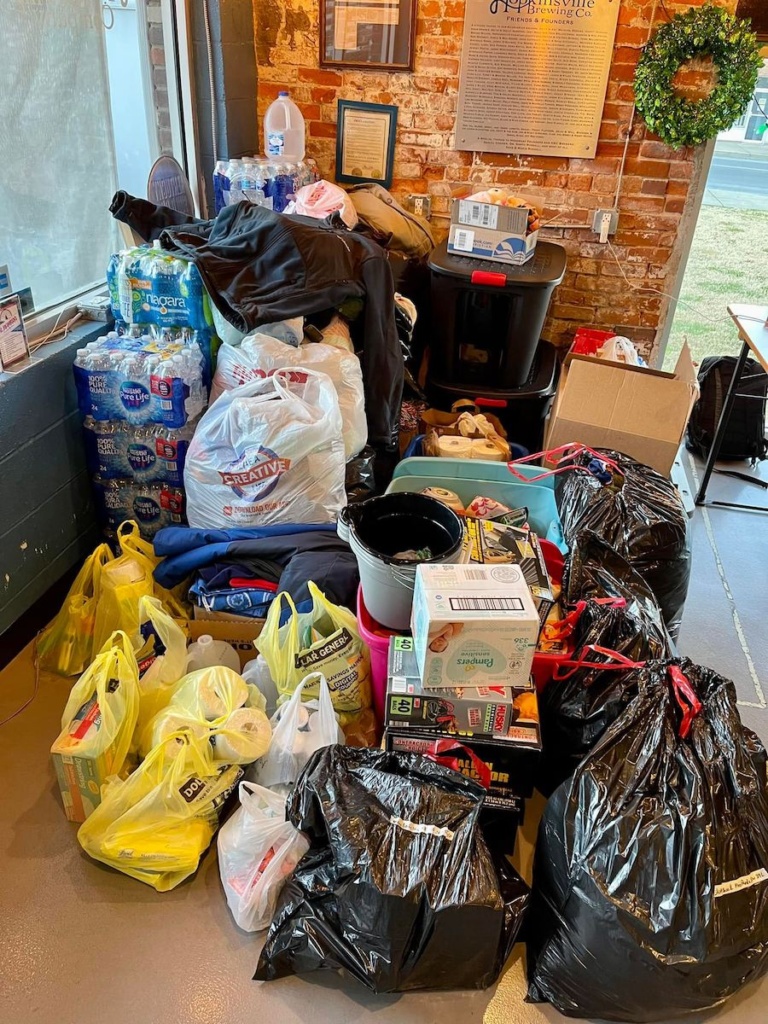 pod detergent
gallon zip lock bags
bleach
buckets
rags/mops/cleaning tools
trash bags
Heavy duty trash bags
personal hygiene items
soap
toothbrushes & toothpaste
deodorant
baby items such as diapers & wipes
flashlights
head lamps
batteries (AA, AAA, 9v)
work/utility gloves
water
new socks
new undergarments
blankets
coats
warm clothes
shoes
toiletry items
Journey Church
Journey Church, 425 Millbrooke Drive, collected supplies for surrounded communities earlier this week. The church has launched an online fundraiser at https://ourjourney.tv/helpkentucky.
Pembroke Baptist Church
Pembroke Baptist Church, 144 S. Main St., is offering showers, shelter and bottled water to residents affected by the storms.
"We will be helping clean up efforts this morning, if you have something that you need help cleaning up, let us know," the church said in a Facebook post on Sunday morning. "Childcare for workers will be provided."
The church is delivering taco meals to those working or without power. According to its Facebook post, the church is also accepting donations or taco meat and nachos or sweets. The church can be reached at (270) 475-4125.
Red Cross
The American Red Cross has set up the Western KY Red Cross Disaster Relief Fundraiser to support those affected by this weekend's tornadoes. As of early Sunday afternoon, it had already raised more than $188,000 of its $250,000 goal. Donations can be made at: https://www.facebook.com/donate/1102848833822116/
Salvation Army
The Salvation Army also has set up a fundraiser to support disaster victims. Donations can be made to The Salvation Army Western KY Disaster Relief Fund at: https://www.facebook.com/donate/645874989922844/
Team Western Kentucky Relief Fund
On Saturday, Gov. Andy Beshear announced the launch of the Team Western Kentucky Relief Fund.
"It is solely dedicated to helping the on-the-ground efforts going on right now and the relief efforts these families are going to need to rebuild," Beshear said. Donations can be made at TeamWKYReliefFund.ky.gov.
Beshear also encouraged Kentuckians to assist by giving blood.
"We were already pretty short with COVID out there. We're going to have a lot of deaths, but we are also going to have a lot of injuries."
Find more information about donating at the American Red Cross and Kentucky Blood Center.