The Wendell Berry Farming Program, a tuition-free college degree program named for the author, poet, farmer and conservationist, graduated its first cohort of 12 students in Kentucky on May 15.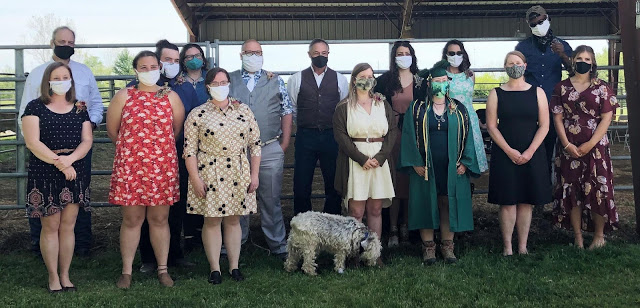 Berry gave the graduates "a stirring assessment of the consequences to our country when millions of people have moved from farms to urban areas in a single lifetime," a news release reports. "Sharing his belief in the fundamental laws of nature and human nature," Berry said, "If the land is to be used by people, then it must be used by people who love it. Who are culturally prepared and instructed to use it lovingly. And whose cultures, therefore, are sustained economically."
Speaking at Henry County High School, Berry, 86, told the graduates, "I believe that you, along with all the rest of us, are called to take good care of our country. Which in the foreseeable future will mean both using it well and, so far as we can, healing the wounds we have given it."
"The graduates plan to follow Berry's advice: Some will return to family farms to revitalize the land, manage forests, grow crops and raise livestock using sustainable methods," the release reports. "Others will apply their education to establish new enterprises that focus on connecting people with food and farms."
The Berry program "is a partnership between The Berry Center of New Castle, Ky., and Vermont's Sterling College, a small liberal-arts college committed to using education as a force to advance ecological thinking and action," the release says. Graduates earn a Bachelor of Arts degree in Sustainable Agriculture and Food Systems. Tuition is replaced by grant support from the NoVo Foundation, co-founded by Peter Buffett (youngest son of billionaire Warren Buffett) and his  wife Jennifer, and gifts from other foundations and individuals. Students pay room, board and fees.
Sterling President Matthew Derr said in the release, "The Berry Center's generational, local understanding of this place and its people has been critical to the success of this program. It's so clear that we share a sense of trust, friendship, and commitment to community with all of those here in Kentucky."
Graduate Lizzie Camfield of Campbellsburg, Ky., said her graduation plans include starting her own family farm and continuing the small-batch fermented hot sauce business she established as her capstone senior project. "Without this program, I would never have felt empowered enough to pursue farming as a career," Camfield said. "I love Kentucky, but I didn't consider it a place where I could make a life and a living, especially farming. Now I have a whole different perspective and I treasure it more than ever."