The tornado that leveled much of Mayfield and Dawson Springs was an EF4, the second most intense tornado on the Enhanced Fujita Scale, according to a preliminary report from National Weather Service in Paducah.
The tornado entered Western Kentucky from Tennessee at 8:56 p.m. Friday. The tiny community of Cayce (pop. 90) in Fulton County took a direct hit from the tornado, which continued northeast through Mayfield from about 9:20 to 9:30 p.m. and "produced widespread destruction," the weather service report states.
"After moving through Mayfield, the tornado passed on the northwest edge of Benton around 9:45 p.m. and then across the Land Between the Lakes National Recreation Area. The tornado continued across the Princeton area in Caldwell County, then passed through Dawson Springs around 10:45 p.m."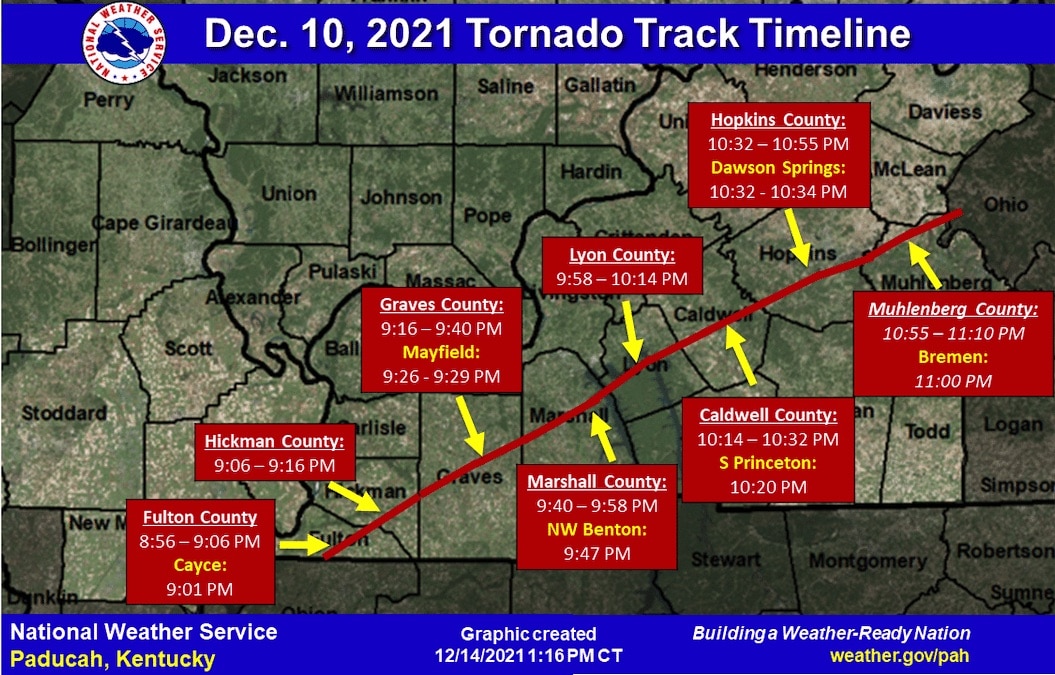 The tornado then crossed the Green River and reached Beaver Dam around 11:20 p.m. It spanned 1 mile at its greatest width. It produced wind speeds peaking at 190 mph.
The tornado began in Arkansas. Early reports indicated it traveled 220 miles on the ground, although the exact distance had not been confirmed. According to preliminary reports out of Paducah, it was on the ground for approximately 128 miles in Kentucky.
Additional tornado tracks — including on in South Christian — still being surveyed
There were multiple tornado tracks that cut destructive paths through Western Kentucky on Dec. 10 and 11. The weather service is still surveying the damages to determine the severity of the other tracks, including one that crossed South Christian from LaFayette to Pembroke.
An interactive map of the primary tornado and the one that traveled through South Christian can be accessed here.
Gov. Andy Beshear's office has confirmed that the storms killed 74 people in Kentucky. The reported deaths include 21 in Graves County; 17 in Hopkins County; 15 in Warren County; 11 in Muhlenberg County; 4 in Caldwell County; 2 in Marshall County; and one each in Franklin, Fulton, Lyon and Taylor counties. The age range of the deceased ranges from 2 months old to 98 years old.
Beshear traveled on Wednesday with President Biden to Mayfield and Dawson Springs.
After surveying the damage and meeting with residents, the president said he would increase federal aid for debris removal and any emergency services to 100% of the eligible costs for 30 days. Initially, the aid agreement was for up to 75% of those expenses.
Damage surveyed in South Christian