To the Editor, Hoptown Chronicle,
In 2014, the Kentucky General Assembly adopted House Resolution 19 to designate the third week in October as Kentucky Retired Teachers Appreciation Week. On Monday, Oct. 19, Mayor Wendell Lynch and County Judge-Executive Steve Trimble signed a proclamation to recognize the worth of local retired educators. This year, in the midst of a health pandemic, it seems very appropriate to honor retired public school educators for their many years of service to the youth of Kentucky. They have significant experience and knowledge about teaching in difficult circumstances. They have been at the forefront of many difficult situations while striving to educate our Kentucky youth in a safe and effective manner.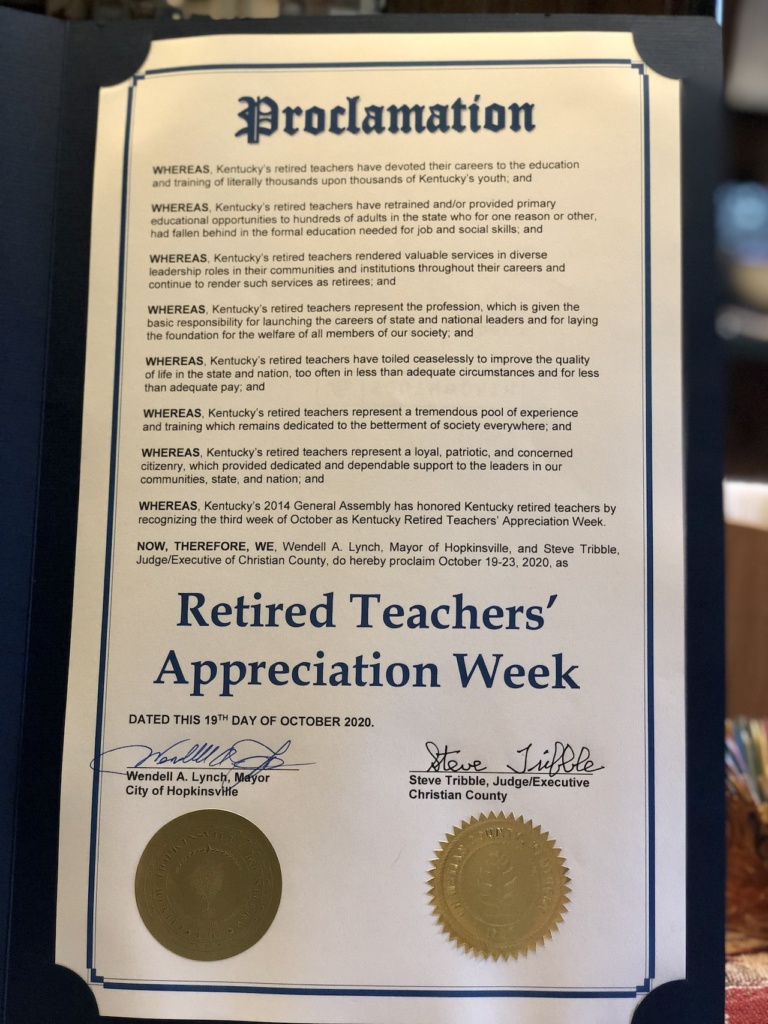 Christian County Retired Teachers Association is the local group in the Kentucky Retired Teachers Association. The organization has approximately 31,000 members. Its primary purpose is to act on behalf of retired teachers through local, state and national efforts to assure quality of life to retired teachers. According to the KRTA data, there are 602 retired educators living in Christian County. Collectively, this group received $21.39 million in retirement benefits for fiscal year 2020. That is a significant source of financial benefit for our entire community as these retirees spend the greater portion of their benefits here in Christian County.
Through our local and state organization, significant impact on the well being of our community occurs through the numerous hours of volunteer service rendered by educator retirees. Hardly any local effort is conducted without the volunteer support of these retirees. Additionally, CCRTA sponsors four specific service projects: 1. School supplies drive where we contributed 26 bags of supplies to Sanctuary House; 2. A food drive each December to assist local agencies in feeding those in need; 3. Presentation of a $500 scholarship to a local student enrolled in an educator preparation program.
In conjunction with KRTA and AARP, we annually select a Grandparent Essay winner from the local schools. A student at Millbrooke Elementary was selected as the state winner in 2018-19. A Volunteer of the Year award recognizes outstanding volunteer work in one specific area over time. Our local winner was also the state winner in 2019-20.
I would like to thank Christian County for its support of both active teachers and retired teachers. Their influence over the future of our children is immeasurable. Our retired educators have truly been servants to the community throughout the many years of their careers. It does take a village to rear a child, and a most significant component of that village is the classroom teacher. Let's celebrate what they have accomplished this week and use the week to encourage our local youth to consider careers in education. Our community must have teachers with the desire to impart knowledge to the future generations. Then, one day they can retire into service to others through CCRTA!
Sharon Suddeath, President
Christian County Retired Teachers Association