Christmas of 1969 was to be a great Christmas for the Turner family. We had been married six years and had a 3-year-old son, Rob, looking forward to Santa's arrival. Renovations on our 1850s farmhouse had been completed, which included a new den with a fireplace. We were ready to party!
It was decided the best way to celebrate was to have a family Christmas gathering of the Elliotts from Owensboro (as many as could come) and the Turner family, who mostly lived in the Christian County area. Mothers, dads, aunts, uncles, great aunts, great uncles and cousins were all invited for a noon Christmas meal.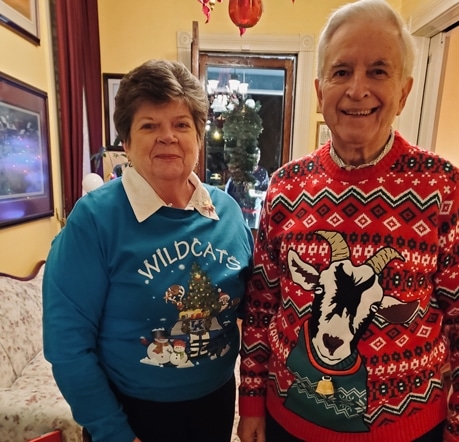 As time drew near to Christmas Day, preparations began. A cedar tree, grown on our farm, was cut, placed in the parlor and decorated. Other decorations were all around in each room of the house. Groceries stocked the kitchen cabinets and pantry shelves, so everyone's favorite food could be cooked. We were ready!
The cooking began a couple of days before Christmas. The turkey and Uncle Robert Major's home-cured country ham had been cooked. The Elliott's traditional jam cake was baked, as well as the always-wonderful Turner coconut cake. Nothing but freshly-grated coconut could adorn the cake's icing. It was Christmas Eve, one more day!
Mother and Dad Elliott arrived Christmas Eve morning from Owensboro to spend a few days in Hopkinsville enjoying being with their first grandchild. Snow began falling Christmas Eve night. Christmas Day morning greeted Christian County with what was recorded in the Turner daily journal as "a heavy snow." Nothing was going to spoil Christmas! After all, we had snow on Christmas Day. How often does that happen in Southern Kentucky!
All was going well. Santa had made it all the way from the North Pole and brought Rob a pedal tractor, now being driven all over the house. A big log fire was roaring in the new den fireplace. Beginning around 10 a.m., one by one, guests made it through the snow and were welcomed by the aroma from the kitchen of cornbread dressing, green bean casserole and sweet potatoes being cooked in the oven. Around 25 family members were expected that day, but only 15 made it over the snowy roads.
Just about everyone had arrived, all the greetings of hugs and kisses had taken place, when suddenly all the electricity went off. Now, when you lived in Christian County in 1969 and "the juice" went off, rule No. 1 was you never panicked until the lights flickered about three times. Flicker number 1 … flicker number 2 … Wait … wait … oh, no! That was flicker number 3. Now the frenzy panic began!
Rule No. 2, when power went out, was to check with your neighbor across the field to see if the electricity was out all over the area or only at your house. "No, we do not have power," was the response. Now what? Fifteen hungry guests were ready to eat and the cooking had suddenly ground to a halt.
It was decided to check with Uncle Robert Major's home, about two miles away, to see if they had power. "Yes, we do! Come on over and use our stove!" So Mother Elliott and the ever-so-calm William loaded all the food to be cooked into the Turner Buick.
Down the drive and through the woods they went. One problem had been solved!
A second problem quickly presented itself. There was still cream that needed to be whipped for the fruit salad. Now it was time for all the guests to do their part. The cream was placed in a large Mason jar, sealed tight, and passed around from person to person, each person shaking the jar as long as they wished before passing it to the next person. By the time the jar returned to the kitchen 10 minutes later, the cream had been whipped and was ready to put over the fruit salad. After another 20 minutes, the freshly cooked, piping hot food arrived from its two-mile journey, ready to eat.
The only thing not done was the coffee. "So what," one might say, but one guest was known for having coffee with every meal. Not this meal, or so we thought.
The dinner bell rang, all gathered at the table, prayers of thanksgiving were offered, and we all sat down. At that moment, the electricity came back on, evoking an eruption of cheers from all gathered around the table! Pennyrile Electric, never failing in their devotion to our community, had fixed the downed power lines. The coffee pot was plugged in, and all the happy eaters began the feast.
The rest of the day was full of laughter, shared memories of past days, and enjoying the time we were together. That was the last Christmas we had with Daddy Elliott, as he died the following April 1970, four months before his third grandchild, our daughter Joyce, was born. How thankful we are now in 2019 that we had that day, Christmas of 1969
(William T. Turner is Christian County's official historian. His wife, LaVena is a registered nurse. They still live in the 1850s farmhouse where they spent Christmas of 1969.)