It was my second Christmas in Texas. Alone.
The first Christmas Eve, I ran out to do some "last-minute" window-shopping – to lift my spirits – and it started to snow: BIG flakes! A little winter wonderland surprise – when they'd promised I'd never see snow on Christmas Day. I was elated!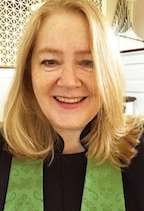 "Oh ye of little faith."
But this year, the miracle was not to come. I was incredibly sad. Lonely. Homesick – wherever home might be for a 55-year old woman who'd decided to trash her lucrative career for grad school. I was too poor to risk going to the same posh shopping area that I'd been to the year before. So I opted for Target. Maybe some of those little glittery trees were discounted.
There was no snow. Mattress ads decorated the strip mall. It was hardly the Hallmark scene that I'd enjoyed the year before. And Target? As I wandered to the back of the store listening to Christmas Musak that had been playing since October – I noted that most of the shelves were empty. Have you ever been in the back of an empty Target with empty shelves? On Christmas Eve? Alone?
This wasn't helping.
Did I really think glittered Styrofoam spheres would cheer me up? I wanted to leave. And then the words came: "The light shines in the darkness and the darkness cannot extinguish it." Well, this was certainly not the nativity scene for which this verse, on cue, was meant.
I lifted my head: pursed lips, eyes wide open, fighting tears, and felt a spotlight shining down, instead … on me … from heaven. In the back aisles of Target I remembered the shepherds, who were the lowest of low. But the angels came. To. Them. And as I lowered my head, this time, laughing … chagrinned, even as tears rolled down my cheeks, I felt the Light bouncing back from within me, to heaven. And I wondered if, from God's perspective – I was the brightest light, in all of Dallas/Ft. Worth that day … if we don't all bounce light? (Okay, now this was becoming ridiculous.)
I walked until I found the glittering trees at 80% off.
Maybe God saw me. Alone, in the back of an empty Target, trying to get in the Spirit of things. And maybe that delighted God, more than snow delighted me. And maybe that wasn't my best Christmas EVER … but since then, well … whenever I'm down, or walk into a Target, I remember that Jesus said, "You are the light of the world." (And the darkness cannot extinguish it.)
(The Rev. Kimberly Zarley was an art director designing magazines and books for national publishers, including Better Homes and Gardens, in her former career. After 30 years, she decided to go to seminary, studied at Brite Divinity School in Ft. Worth, graduated with two Masters from Iliff School of Theology in Denver, was ordained and called to serve as the associate pastor at First Christian Church in Hopkinsville (where she loves living) in February 2018.)