As the Delta variant of COVID-19 escalates in Kentucky and elsewhere, Gov. Andy Beshear strongly recommended Monday that all unvaccinated Kentuckians wear a mask outside of their homes. He also said fully vaccinated people should wear a mask indoors if they work in jobs with significant exposure to the public, which includes those in retail, restaurants and hospitality.
Beshear and Dr. Steven Stack, the commissioner of public health, outlined the new recommendations in a news conference.
The recommendations are:
All unvaccinated Kentuckians should wear masks indoors when not in their home
Kentuckians at higher risk from COVID-19 due to pre-existing conditions should wear masks indoors when not in their home
Vaccinated Kentuckians in jobs with significant public exposure should consider wearing a mask at work
All unvaccinated Kentuckians, when eligible, should be vaccinated immediately
"We have the most aggressive variant that we have seen to date in our battle against COVID. It's a serious, even deadly, threat to unvaccinated Kentuckians," Beshear said. "If more adults don't get vaccinated, it's not just adults who pay the price. It's our kids who will. Many of them can't get vaccinated yet, and they count on us to make good decisions and do the right thing."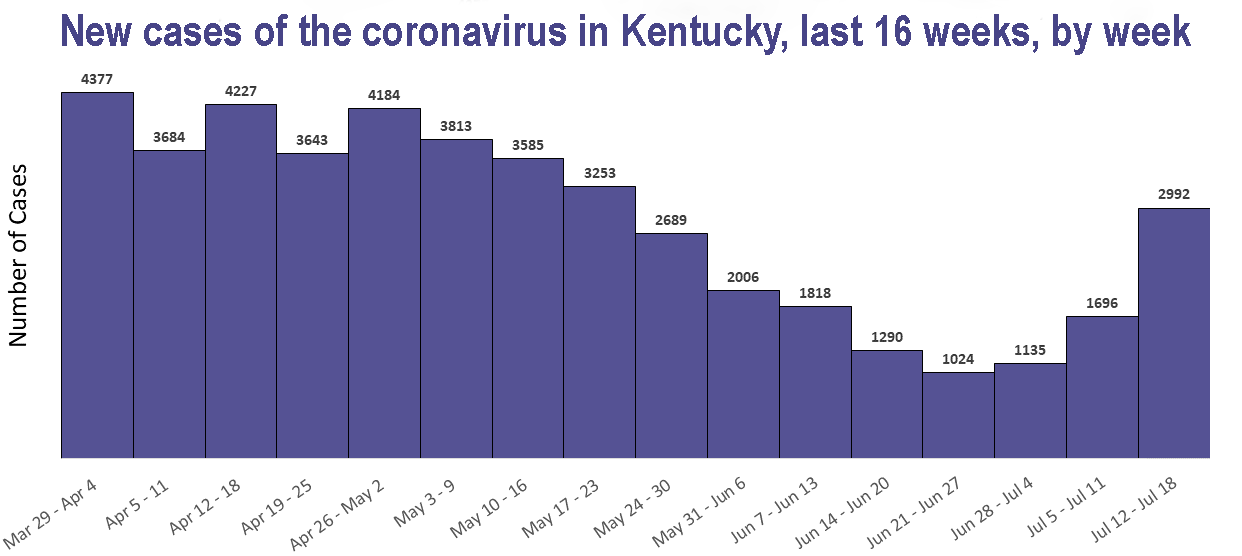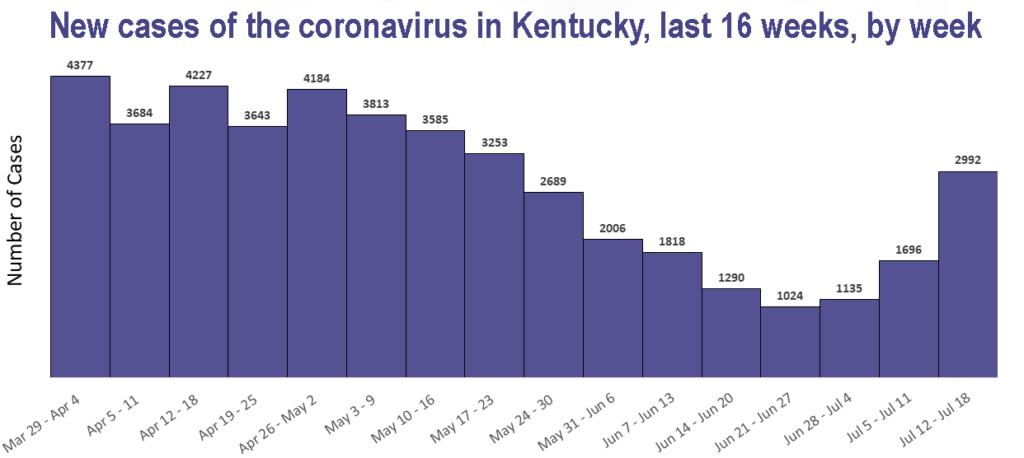 The most recent estimates from the Centers for Disease Control and Prevention suggest the Delta variant — believed to be about twice as contagious as the original strain of COVID-19 — has accounted for 57% of all COVID-19 cases in the United States in recent weeks.
During his press conference Monday, Beshear stressed recent comments by Dr. Scott Gottlieb, the former head of the Food and Drug Administration.
"What Scott Gottlieb has said is that if you are not vaccinated and you haven't had COVID — meaning you don't have some level of natural immunity or protection — you should expect to get the Delta variant and you should expect it to be the most serious illness that you will ever have in your life," he said.
As of Monday, 51% of Kentuckians had received at least one dose of a COVID-19 vaccine.
In the last three weeks, newly confirmed COVID-19 cases have grown more than 190% statewide and more than 300% in Christian County, which has one of the worst vaccination rates in Kentucky. There has also been an increase in hospitalizations, with six COVID-19 patients hospitalized at Jennie Stuart Medical Center on Monday.