Edward Thompson "Ned" Breathitt Jr., a 39-year-old attorney from Hopkinsville, became Kentucky's governor on Dec. 10, 1963.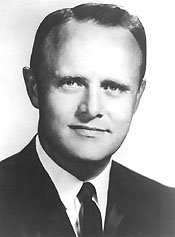 Among many Hopkinsville and Christian County residents present for the inauguration ceremonies in Frankfort that day were Christian Circuit Judge Ira D. Smith, who administered the oath of office, and the Rev. Marvin Whitmer, of First United Methodist Church, who helped lead a prayer service in Frankfort. Whitmer read a scripture lesson from Matthew 20, which included, "… Whosoever will be great among you, let him be your minister; and whosoever will be chief among you, let him be your servant."
It was so cold on Inauguration Day, children who attended the parade in Breathitt's honor appeared "roly-poly in their layer on layer of warm clothing, and many of their mothers sacrificed style to the warmth of wool slacks, fur-lined boots, and heavy cloth coats," the Courier-Journal newspaper reported.
Breathitt, a Hopkinsville native, was born on Nov. 26, 1924. He graduated from Hopkinsville High School in 1942 and enlisted in the U.S. Army Air Forces. He served until 1945, then enrolled at the University of Kentucky. He earned his bachelor's degree in business in 1948 and his law degree in 1950.
Breathitt, a Democrat, served in the Kentucky House for three terms before running for governor. He was backed by his predecessor, Gov. Bert T. Combs.
In the 1963 Democratic primary, Breathitt defeated a former governor, A.B. "Happy" Chandler, for his party's nomination. In the general election, Breathitt beat Republican nominee Louie B. Nunn by approximately 13,000 votes.
Breathitt was a one-term governor. The Kentucky Constitution at that time did not allow a governor to serve consecutive terms. Today, his tenure is remembered for road expansions (including the Pennyrile Parkway that was later named for him), economic development, major state park improvements and passage of the Kentucky Civil Rights Act, which was the first state desegregation law in the South.
On the occasion of Breathitt's inauguration, the Courier-Journal devoted a small story to what was happening that day in his hometown.
Here's what the Louisville paper noted:
Many Gone; Hometown is Quiet
Hopkinsville, Ky., Dec. 10 – Ned Breathitt's hometown didn't close up during his inauguration as Governor — but activity slowed down plenty.
A number of youngsters were downtown since schools declared a holiday, but many others went to Frankfort for the big day.
Their absence slowed much business activity. As one restaurant operator put it, "things are slow — but it's worth it." Other businesses had brisk pre-Christmas trade.
City and County offices took a holiday except for essential activities such as police and fire protection.
Police Chief Russell Greenwell and five officers went to Frankfort to help handle the crowd.
Here, the desk sergeant said at noon: "It's a quiet day for us, so far."
Return to practicing law
Breathitt returned to his law practice after serving as governor and eventually moved from Hopkinsville. Among many civil and professor endeavors, he served on the University of Kentucky's Board of Trustees.
He collapsed while giving a speech at Lexington Community College on Oct. 10, 2003, and died four days later. He is buried at Riverside Cemetery in Hopkinsville.