The third annual Hoptown Harvest Festival will be held Friday and Saturday in downtown Hopkinsville.
The event, sponsored by Continental Mills and Krusteaz, will kick off Friday with a farm-to-table dinner, the "Founders Square Feast," which will include a locally-sourced meal catered by Chef Teeka of Southern Belle Catering and dessert prepared by Heather & Graham Dawson of The Mixer, according to a press release from event organizers. The meal, served outside in the Farmers Market pavilion, will be paired with spirits and craft beer from MB Roland Distillery, Casey Jones Distillery and Hopkinsville Brewing Company.
All servers will be wearing masks, per COVID-19 safety recommendations, said Downtown Renaissance Director Holly Boggess. There also will be hand sanitizer at each seat and stations throughout the festival. Boggess noted that the majority of tickets have been sold by the table, so many diners will be seated with members of their household, friends or co-workers.
Tickets for the dinner, in its fifth year, are $60 per person and can be purchased online. As of Wednesday afternoon, there were 11 tickets available, Boggess said, adding that organizers are planning a giveaway via the event's Facebook page on Thursday.
On Saturday, the festival will run from 11 a.m. until 7 p.m., starting with the inaugural 5th-K Bourbon Relay at 11 a.m. The short two-person relay race — down Bethel Street from 7th to 8th Street — will benefit the Downtown Farmers Market and Downtown Renaissance District. Registration is $50 and participants can still sign up online — or enter the event's Facebook giveaway for the chance to win free entry.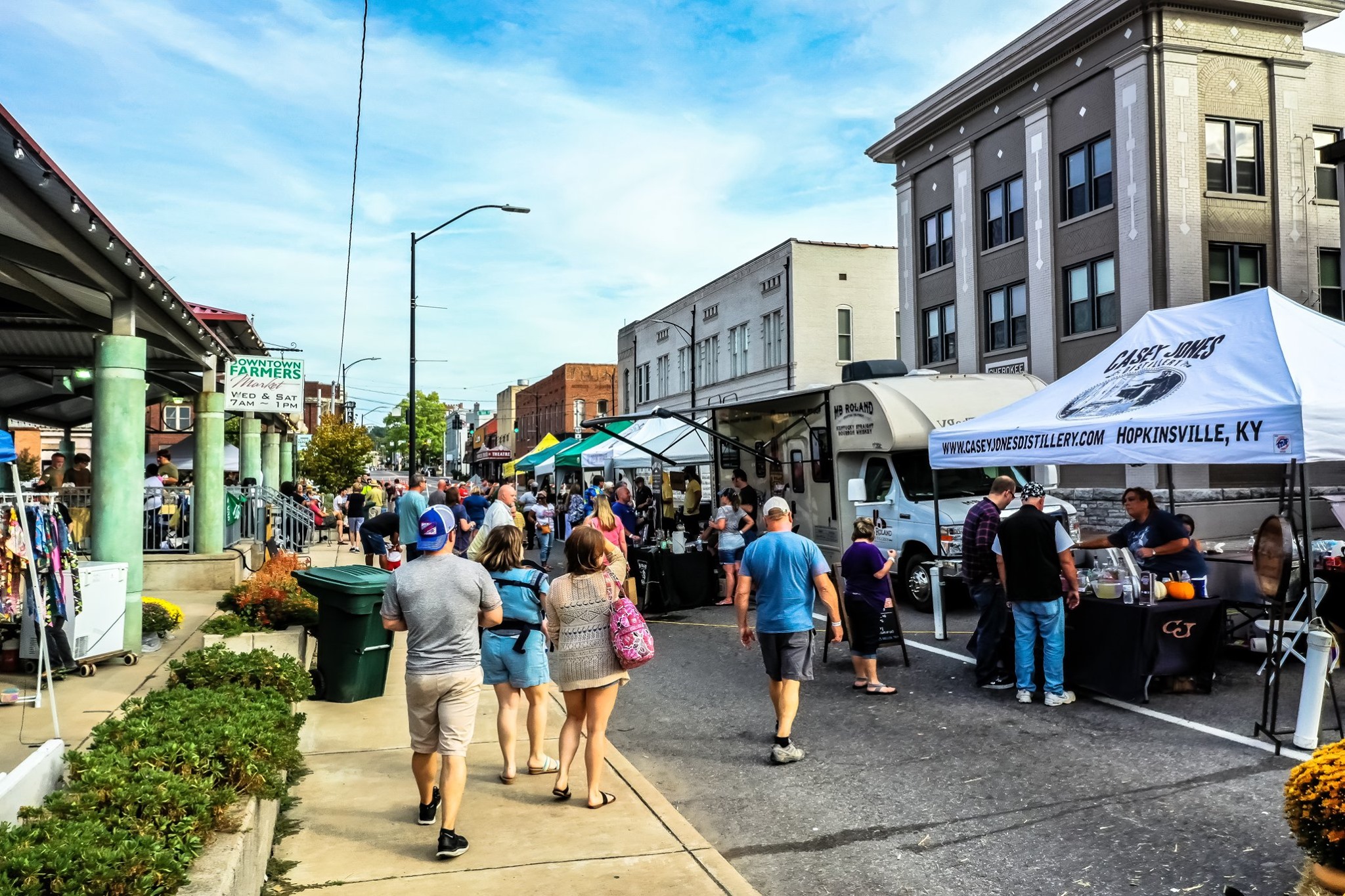 The Downtown Farmers Market Vintage Arts & Craft Fair will open at 11 a.m. Saturday in Founder's Square and will feature hand-crafted jewelry, soaps, artwork, home-baked goods, and a variety of proteins and in-season produce. Local and regional distilleries, breweries and wineries will serve cocktails, craft beer and wine. Food vendors also will be on site.
Saturday's festivities also will include live musical performances from the Gil Gann Trio, Country Twang featuring line dancing with Dixie Majors, and the H Quartet.
A kids' area, sponsored by the Hopkinsville-Christian County Public Library, will offer free children's activities, including pumpkin painting, temporary tattoos, grain bin play, yard-sized Connect 4, cornhole, a bubble zone and caricature drawings.
For additional info and tickets, visit www.visithopkinsville.com/hoptownharvestfestival.