The number of confirmed coronavirus infections at Western State Hospital increased from 22 to 29 over the weekend, and more than half of those testing positive are employees of the psychiatric hospital in Hopkinsville.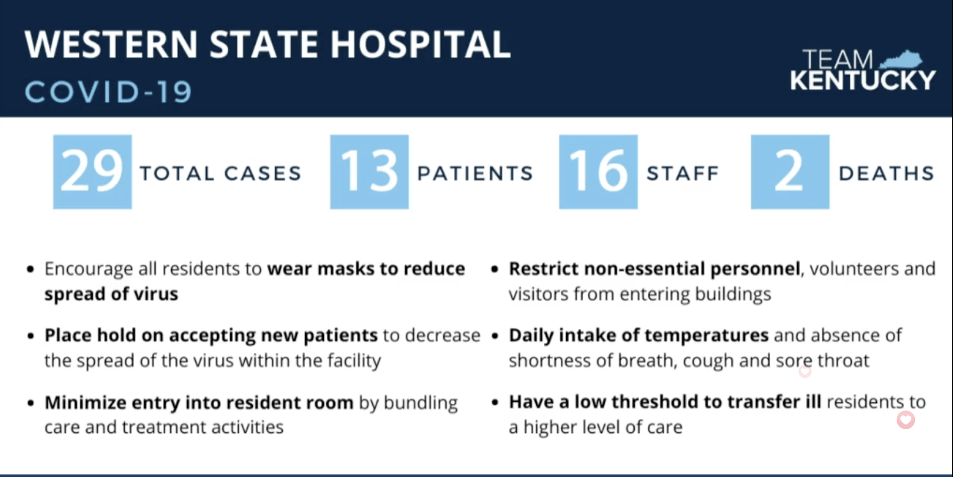 "These are people who are still helping people they know they might get the coronavirus from," Gov. Andy Beshear said Sunday in his daily briefing.
The cases at Western State include 13 patients and 16 staff members who have tested positive for COVID-19, the respiratory disease caused by the novel coronavirus. Two people from Western State have died.
No new cases were confirmed Sunday at Western State, but the governor indicated at least one test result was expected soon.
Countywide, one newly confirmed COVID-19 case was reported Sunday, bringing the county's total to 69, according to the health department.
As of Sunday afternoon, there were 43 active cases in the county, and 23 people had recovered from the respiratory disease. There have been three deaths locally from COVID-19 complications, all of which were reported April 8.
Locally, the number of active cases by age group are:
Pediatric (0-21): 1
Young-Middle Age Adult (22-59): 25
Older Adult (60-84): 16
Elderly (85+): 1
So far, approximately 42 percent of the county's confirmed COVID-19 cases have come from Western State. The psychiatric hospital's patient census was 123 on Tuesday, April 7. Because of the coronavirus outbreak, the hospital is not accepting new patients.
The governor said Sunday that Christian County had 16 newly confirmed cases, while there were no new cases at Western State. However, some of the numbers from the governor could have been reported earlier by local health officials in Christian County.
In Kentucky, there were 134 newly confirmed cases Sunday, bringing the corrected state total to 1,963. (It is described as a corrected total because the state has an ongoing process of adding and subtracting numbers when it learns that some test results are for people who live in another state, or that Kentuckians were tested out of state.)
Three deaths were reported in the state Sunday. So far, 97 Kentuckians have died from COVID-19 complications.
Beshear said 667 people across the state have been hospitalized at some point because of the coronavirus, and 289 were in a hospital Sunday. That included 136 coronavirus patients who were in an intensive-care unit Sunday.
Also, 607 people have recovered after testing positive.
On Friday, the last day for which local hospitalization numbers were available, Jennie Stuart Medical Center reported it was treating 14 patients with COVID-19 symptoms and that five of them were in intensive care.
(Jennifer P. Brown is the editor and founder of Hoptown Chronicle. Reach her at editor@hoptownchronicle.org.)