Louise Buckner was 86 years old when she died on Nov. 4, 2020, at Jennie Stuart Medical Center. She was a Christian County native and a 1950 graduate of Attucks High School. A former employee of Covington's nursing home, she had worked as a cook and a beautician for many years. Buckner's clients thought so much of her, the family said, they would sometimes travel a good distance from other parts of Kentucky so she could do their hair.
She died of COVID-19.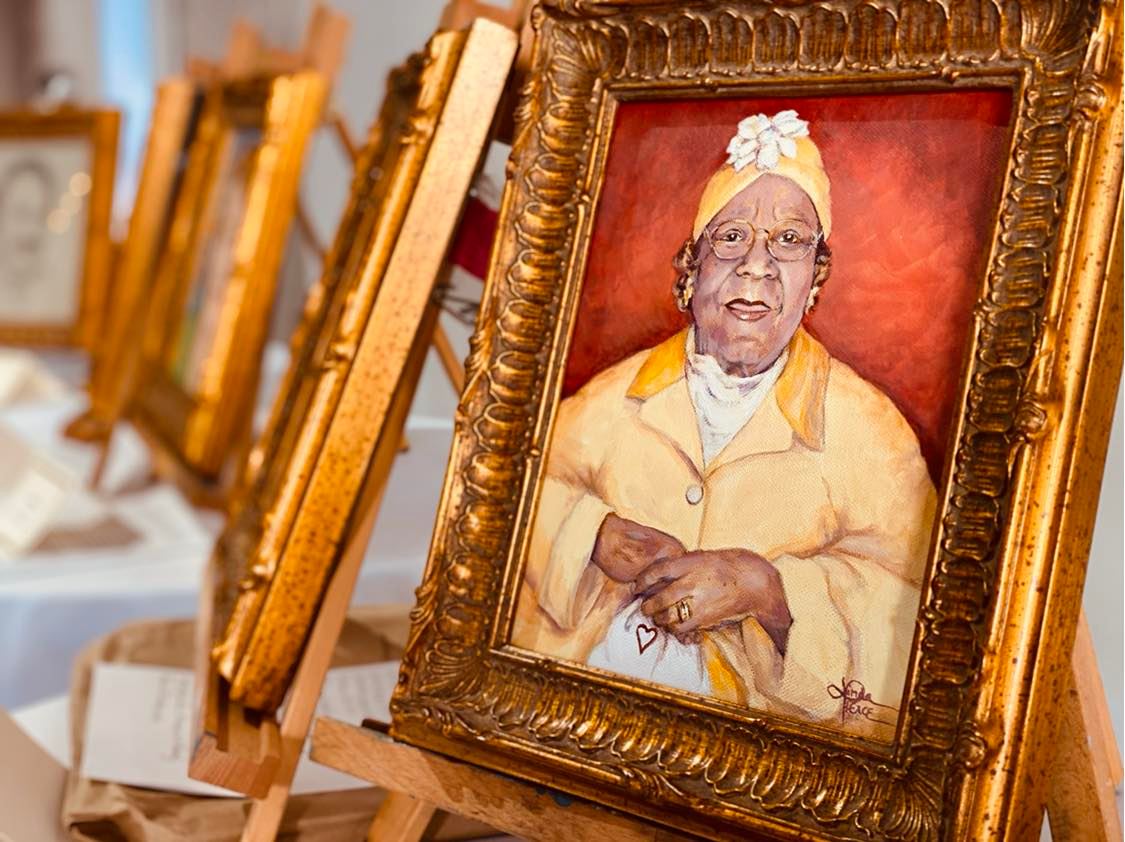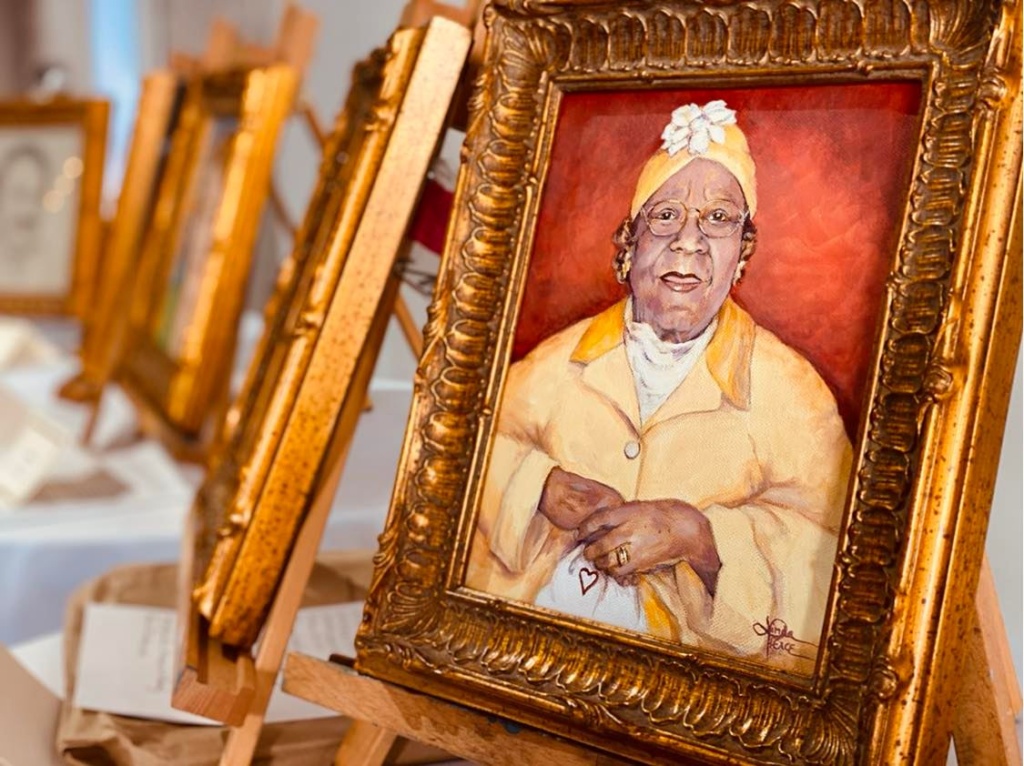 "I wish I had known her," artist Linda Pierce said Saturday afternoon at a ceremony to present portraits to the family members of seven people who died from the coronavirus.
Pierce was chosen to paint Buckner's portrait by the Hopkinsville Art Guild, which paired local artists with families who provided photographs and letters describing their loved ones.
The artists did not know their subjects while they were living, but when it was time to turn the portraits over to the families, a few of them said it was hard to see the images go. In a way, they were experiencing their own kind of loss.
One painting cannot capture the life of a person taken suddenly in a pandemic, said Dr. Elsa Bekkala, who led the project for the art guild.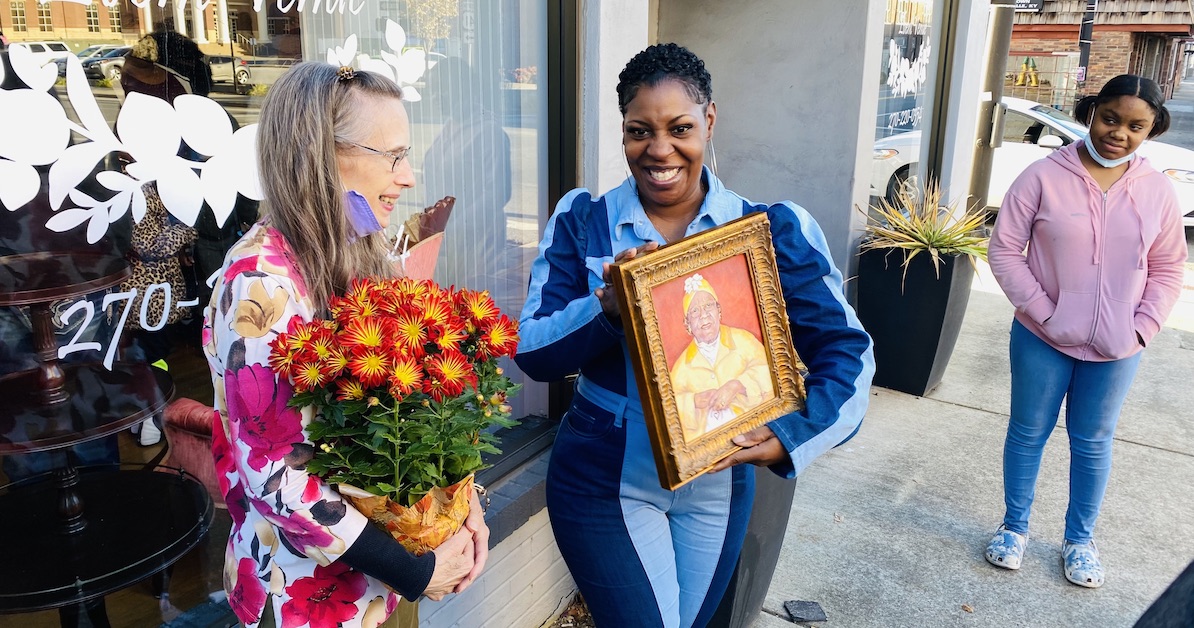 "But we do hope, in some small way, that we will be able to offer something to you that shows how the community really cares about what has happened," Bekkala said during the presentation ceremony at The Studio 3s event center in the old Moayon Building downtown.
Buckner was among the oldest of the seven people memorialized. The youngest was 60. All of them had a connection to Western Kentucky, and most were from the Hopkinsville area. They represented many vocations. A truck driver. A nurse. Two military veterans. Cooks. Store clerks. A factory worker. And the beautician.
Sarah Britt
Sarah Britt was 81 years old when she died on Nov. 28, 2020, at a rehabilitation center in Princeton. A native of Trigg County, she had worked in a Hopkinsville factory, Elk Brand Manufacturing, for 20 years and later became a machine operator at Johnson Controls in Cadiz. Britt loved history and art. She loved Elvis and junk food, too.
When artist Jennifer Bowman read those details in a letter from Britt's family, she cried.
"I saw so much beauty in her eyes," she said.
Bowman wanted to capture the happiness she saw in Britt's face. It was evident in the creases around her eyes and mouth, she said.
"I hope I have done that for your family," she said.
Ester Young Butler
Ester Young Butler died on Jan. 11 in an Evansville hospital. She was 72.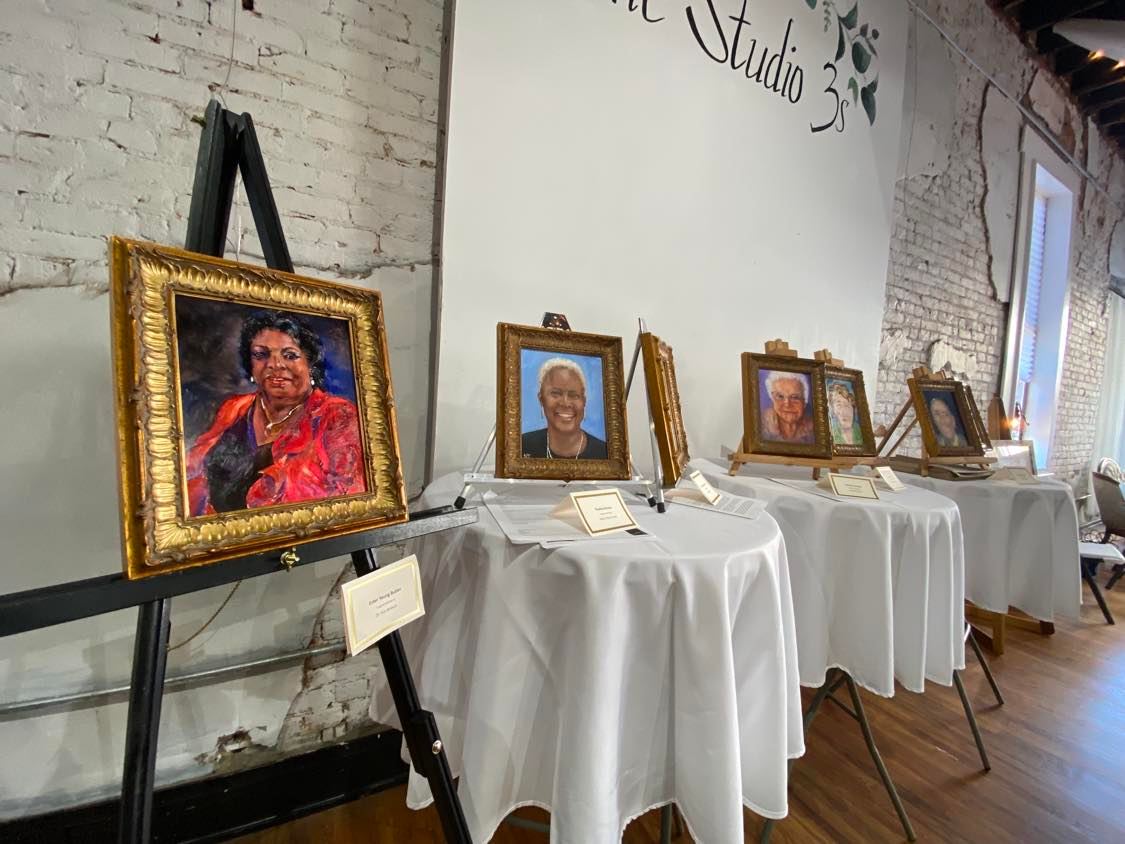 A retired licensed practical nurse, she had worked at Jennie Stuart Medical Center for 44 years. Several family members who survived Butler, including her husband, the Rev. Roland Butler of St. Bethlehem Baptist Church at Pembroke, are ministers. She had 11 grandchildren and 16 great-grandchildren.
Butler worked in service to others at the hospital and at her church, said Bekkala, who painted her portrait.
Bruce Campbell
Bruce Campbell was 72 when he died on Feb. 4. He was born in a farmhouse near the coast of Maine in 1948 and grew up to be a truck driver.
Campbell was on the road for 43 years — but when he settled into retirement with his wife, Judith, he took to his five acres of Western Kentucky land, where he kept chickens and spent time with a small dog named Joy. Most Wednesday evenings, he was at Saint John United Methodist Church helping with a supper.
Campbell served in the Marine Corps, and his family said his fight with COVID-19 was courageous.
Ana Traceski painted his portrait.
Frances Fortner
Frances Fortner, a resident of Fulton, died on Feb. 5 at Tri-Star Medical Center in Nashville. She was 86 and had been a widow since 1995.
Fortner worked for a nursing home and later in a grocery store at Fulton before her retirement. She sang in the choir at Riceville Baptist Church and was devoted to her faith.
Jeannie White painted Fortner's portrait.
Tracy Mark Wymore
Tracy Mark Wymore was 60 years old when he died on March 31 at his home in Clovis, New Mexico. He was an Air Force veteran with 23 years of service.
Wymore's connection to Western Kentucky was through his son-in-law, Trae Blanco, who is director of bands for Murray State University. When he read a story about the Hopkinsville Art Guild's plans for the memorial portraits, he contacted Bekkala and told her about the toll that COVID-19 had taken on his family. His grandmother died with the virus in June, and his wife recently gave him a charcoal drawing of his grandmother. He asked the art guild to do a charcoal drawing of Wymore so he could give it to his wife.
Nada Fuqua drew Wymore's portrait — the only charcoal drawing among the seven pieces.
Thelma Brown
Thelma Brown died July 21 at Jennie Stuart. She was 65 and had retired from Max Fuel convenience stores, where she worked for more than 25 years.
Her daughter, LaTesha Joiner, said half of Hopkinsville probably interacted with her mother at the Max Fuel on Fort Campbell Boulevard near Walmart. She was working as a cook for Morningside Assisted Living when she became ill with COVID-19.
"That's where she really shined. She loved her residents, and she was proud of what she cooked," Joiner said.
Brown would add bacon for seasoning here and there because the residents liked it. When her daughter asked if she was allowed to add pork fat to food at the senior home, Brown said, "Oh, a little couldn't hurt."
Brown, whose portrait was painted by Betty Pierce Liles, was an active woman and was still helping to care for her father. She was busy with her church, First Street Baptist, and she found ways to help anyone she could. She organized donations of clothing and furniture through the church.
"She was a really simple woman, but she had a big life," Joiner said. "So many people were affected by her. I think my mom envisioned being happy for many years and working for the lord."
Since the pandemic began, local health officials have confirmed the deaths of 136 people in Christian County from COVID-19.