A band that bills itself as "1971 — The Greatest Year in Music" is playing Saturday night at the Alhambra Theatre in a fundraiser to benefit the Pennyroyal Arts Council and the Museums of Historic Hopkinsville-Christian County.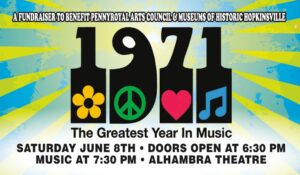 The band, which puts on a live multi-media concert featuring music of the Rolling Stones, Carole King, David Bowie, Aretha Franklin, Marvin Gaye, Alice Cooper, Led Zeppelin, Elton John and more, will be recording a live CD of the Hopkinsville performance. That's a first for the Alhambra, at least in recent history, said Margaret Prim, the arts council's executive director.
"It's like a 24-piece band," Prim said. "It's a huge, huge show."
The band includes two musicians originally from Hopkinsville — guitarist and vocalist Mark Jones and bass player Chip Graham.
The group is arguably a "who's who" of Nashville artists. Earlier this year, they played a sold-out show at the popular 3rd and Lindsey venue in their city.
Prim said she expects the Hopkinsville audience to be wowed at the first song, Marvin Gaye's "What's Going On" performed by Jonell Mosser.
Another notable in the band is John Cowan of the New Grass Revival.
The claim that 1971 was the best year in popular music has been made for some time.
Music journalist David Hepworth makes the case in his book, "Never a Dull Moment: 1971 — The Year That Rock Exploded."
The music of 1971 was the result of "a huge explosion of creativity in a very short period of time," Hepworth has described.
Some of music's distinction and the audience adoration can be attributed to an era that was not so saturated in media.
"One of the points I make in the book is that social media has made it impossible for bands nowadays to have the mystique that Led Zeppelin had in 1971," Hepworth said in an NPR interview. "You never saw them on the television, you hardly ever saw a photograph of them, you had very little idea what they looked like or how they stood onstage or how they behaved. You couldn't go to YouTube and look up loads of clips of them. So Led Zeppelin very cunningly exploited this."
The Alhambra will open at 6:30 p.m. Saturday, and the concert starts at 7:30 p.m.
Tickets are $50 and still available online or at the box office from 8:30 a.m. to 3 p.m. Friday and from 1 p.m. until the show Saturday.
(Jennifer P. Brown serves on the board of the Museums of Historic Hopkinsville-Christian County.)