In a little park amid the main intersection in downtown Russellville, Kentucky, stands a monument to the Confederate dead of Logan County, which borders Tennessee and before the Civil War had an economy based on slavery. No one pays much attention to the monument and its statue of a soldier anymore; business in the town of 7,000 no longer revolves around the square at Fourth and Main.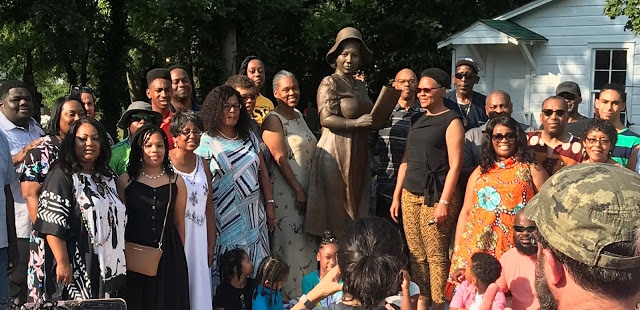 Six blocks away, much more attention is being paid to a newer and more remarkable statue, of an African American woman who rose from poverty in Logan County to become the first black woman accredited as a journalist to the White House and Congress: Alice Allison Dunnigan, who died in 1983.
The statue was dedicated Friday at its new home, the Struggles for Emancipation and Equality in Kentucky (SEEK) Museum, which occupies several lots and buildings in the heart of Russellville's main African American neighborhood. A new walk running diagonally from the corner of Morgan and Sixth leads to the bronze of Dunnigan, looking up from a copy of The Washington Post and seeming ready to ask a sharp question.
Sculptor Amanda Matthews "captured the true essence of Alice: her determination, her grace, her love for journalism and her love for people," said Deborah Catchings-Smith, president of the Sigma Gamma Rho sorority and vice president of operational risk management governance at Citibank.
Dunnigan became Washington bureau chief of the American Negro Press in 1947 and was the first black journalist to travel with a president, on Harry S. Truman's whistle-stop campaign in 1948.
Sonya Ross, who was the first black woman to cover the White House for The Associated Press, told the crowd at the dedication, "I have been able to have the amazing career I've had because Alice Dunnigan had the audacity to believe in all possibilities for herself, and by extension, all black people and all women, and in particular black women."
Another female African American journalist, Zirconia Alleyne, the editor of the Kentucky New Era at nearby Hopkinsville, emceed the event. "The more I learn about Ms. Alice Allison Dunnigan, the more inspired I am," she said after Dunnigan's oldest grandchild, Alicia Dunnigan, gave her biography.
"She used her position as a journalist and political connections to expose injustice and discrimination and keep these uncomfortable issues before the public, the nation and the political establishment of the country," Dunnigan said. "She was an amazing woman, not afraid to speak truth to power."
She said President Eisenhower ignored her "because of her tough questions on civil-rights issues" but President Kennedy called on her, and she asked whether his administration was going to do anything for some tenant farmers in Tennessee "who had been evicted from their homes because they had dared to vote in the last election and were forced to live in tents."
A few months later, the farmers got relief from the Justice Department, Dunnigan said. Later in 1961, her grandmother became education consultant of the President's Committee on Equal Employment Opportunity and worked in government until she retired.
Alicia Dunnigan remembered her grandmother as "strong, intelligent, hard-working, persistent – some would say stubborn" and someone who "cooked delicious Southern meals," drank bloody Marys and smoked a pipe.
Ross said, "In some folks' mind, black girls like Alice do not have what it takes to be a bona fide American hero. Essentially, if they come from tucked-away places, if they start life with virtually nothing, if they live life with virtually nothing, and leave here wrapped in invisibility. The truth is, Alice Dunnigan was a bona fide American hero."
Beneath towering shade trees on a hot, sunny day, Ross said, "This is indeed just a beautiful moment. Do you all feel like, this palpable, amazing love? . . . I see why she had so much moxie. This town has moxie."
The gathering, which attracted people from hundreds of miles away, was a product of the SEEK Museum and Historic Russellville Inc., led by lawyer J. Gran Clark. He said it got the money for the statue from the E. Rhodes and Leona B. Carpenter Foundation, created by the founder of E.R. Carpenter Co., which has made polyurethane foam in the town for 50 years.
Clark told the crowd, "There are a lot of people that care about this, that recognize that we have a shared history, racially, and it's something that needs to be talked about, and learned, and digested."
He said Southern writer John T. Edge compares the history of slavery to the game of Whack-a-Mole: "That's what the South has always done about the history of slavery: It comes up, you knock it down. You never deal with it; you never address it. It never gets to stay on the surface.
"So what we're hoping to do is not just slavery, but our whole American history of race relations, to let it come up, to take that history that's been hidden and buried, and share it, learn from it, and hopefully get to be better people and better communities."
For some, the event had present-day currency. "President Eisenhower put Alice on mute for two years," Ross said, "and today President Trump tries to put our sister journalists on mute for doing their job of questioning his authority."
Catchings-Smith said that Dunnigan were here today she would say "Supporting the Fourth Estate does not reflect political bias, but rather is our right under the United States Constitution to have freedom of thought and expression. . . . She understood very well that without a free press, individual freedoms are at risk. She understood that ethical journalism and freedom of thought and expression are essential to our very own democracy."
(This story first ran on The Rural Blog, a digest published by the Institute for Rural Journalism and Community Issues at the University of Kentucky. The author, Al Cross, is the institute's director and a former reporter for the Russellville newspaper early in his career.)