The last time I had seen Russell Ferguson, four years ago, we were in Lexington for a Kentucky Journalism Hall of Fame luncheon. His late wife and my former Kentucky New Era newsroom colleague, Mary D. Ferguson, was among nine journalists selected for the 2017 hall of fame class. She had died the previous summer, following 54 years at the New Era as a staff writer and columnist.
After the induction ceremony, Ferguson posed for a photo holding Mary D.'s hall of fame plaque. He wore a bright blue sports coat, a crisp white shirt and a plaid bow tie — and he flashed a big smile for the camera. A retired Kentucky State Police trooper, Ferguson moved to East Tennessee to be near their daughter, Lee Ellen Fish, after Mary D. died.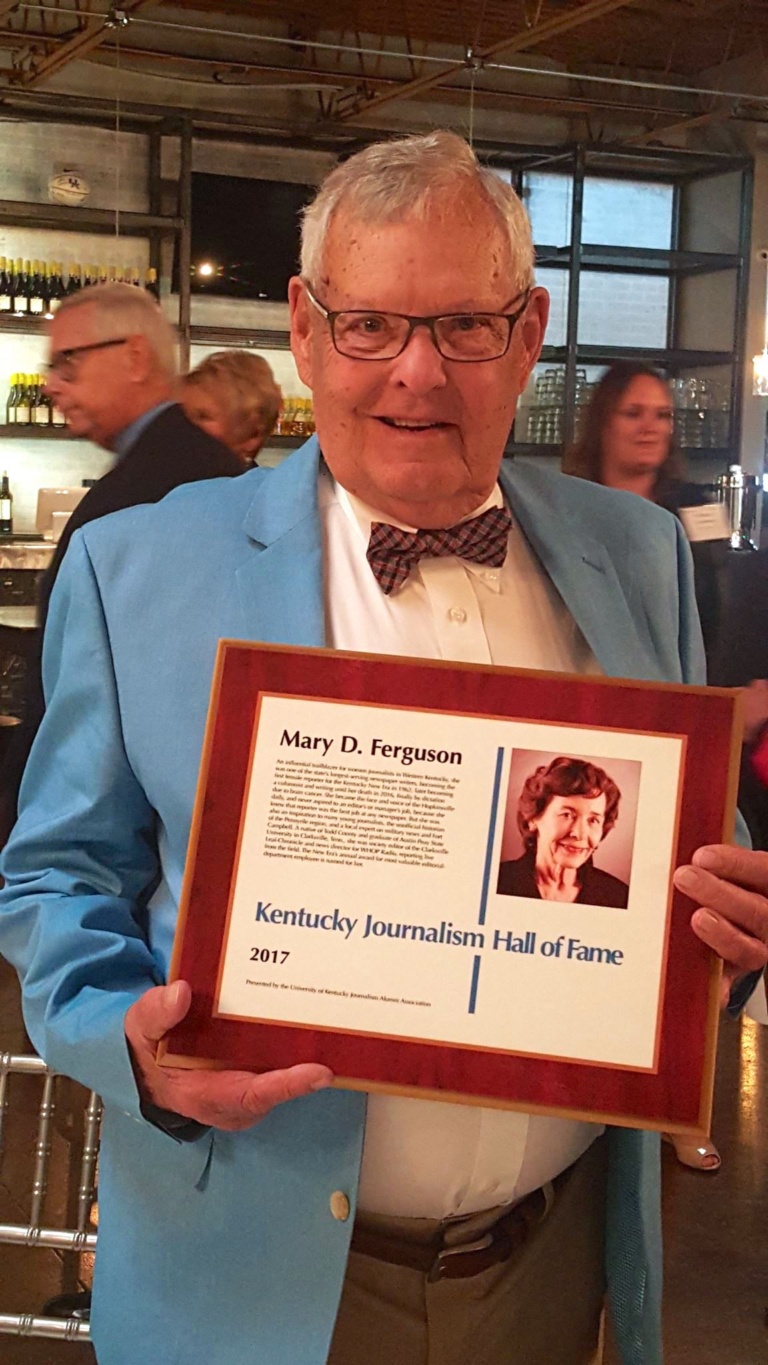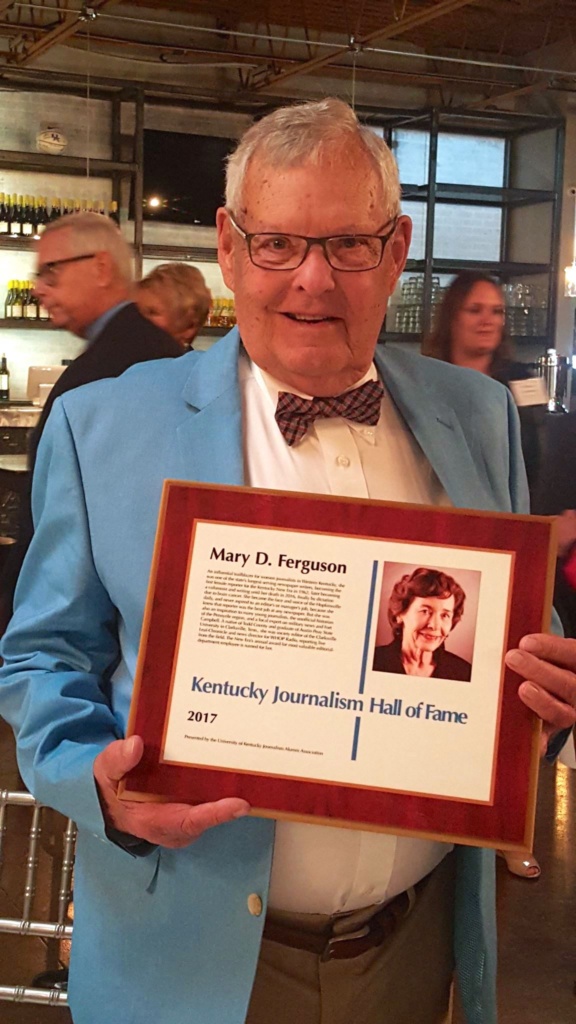 I thought of that wonderful photograph of Ferguson when I went to his funeral Friday morning in Hopkinsville. He died on Aug. 5 at Kingsport, Tennessee. He was 91.
Although my memories of Ferguson revolve mostly around Mary D. and his visits to the newsroom, I know his reputation as a state trooper is the way he will be remembered in Hopkinsville. His lectures to reckless drivers and highway speeders from the early 1950s until his retirement in 1985 are legendary in Western Kentucky. Back then, if you got through your teen years without being pulled over by Ferguson, you counted yourself lucky in Christian County. But if you did get a ticket from him, you might have later bragged about it. I somehow managed to evade him, but I heard years later he was watching for me on Bradshaw Road and Garnett Lane.
Ferguson was an old-school police officer. He believed he was the law when he walked into a room, and he wore his gray uniform like it meant something. But he could be funny and mischievous, too. He told stories with the best of them, including his wife.
When I was in high school in the late 1970s, I remember Ferguson stepping out of his police cruiser one winter morning and getting into a snowball fight with some of the boys in my class as parents passed in the car line. You just never knew where things might go with Ferguson.
Lee Ellen gave her father's eulogy at Hughart, Beard and Giles Funeral Home, and she recalled what it was like to be an only child raised by a news reporter and a police officer.
"So we were up at all hours of the night," she said. "We had police scanners going on. It was a strange lifestyle, but it was good."
The Fergusons lived on Pembroke Road a few miles south of Hopkinsville. Late one night while they slept, a man on the run from police darted onto their long, gravel driveway, thinking he was on a country lane that would help him escape. But when he reached the Ferguson house at the top of the hill and the police caught up with him, all hell broke loose.
As Lee Ellen described, Mary D. woke first and yelled, "Get up, Russell, they're shooting on the back porch."
He grabbed his gun belt and was headed for the stairs without a stitch of clothing before Mary D. stopped him so he could pull on some pants.
"It was constantly things like that," Lee Ellen said.
When Ferguson was forced to give up his state police career because of a mandatory retirement age, Mary D. wrote about it for the New Era. It was in January 1985, and he was he was 55 years. No other state trooper had served as long as he had, according to a Courier-Journal report. 
Lee Ellen read from her mother's New Era story:
Trooper R.N. Ferguson Jr., who is retiring after 40 years in law enforcement, finds satisfaction in being able to know his mission is accomplished.
"I always felt that if I could end my career with not one person injured and not one person killed as a result of my work, I had been successful and it has been worth all the work."
He made the comment as he prepared to go 10-7 (out of service) for the Kentucky State Police for the last time. The police cruiser was being turned in today, the badge laid down for "Fergie."
Ferguson's career has moved from the mountains of East Kentucky to Christian County, which he soon learned to consider as his real home.
It has gone from moonshine to marijuana searches; from a 1948 police cruiser to airplanes and helicopters; from two-lane Clarksville Pike to four-lane U.S. 41A; from a monthly salary of $170 a month to being a part of one of the nation's best paid, best equipped and most respected law enforcement agencies.
Ferguson, who started his career at 15 with the old Kentucky State Militia, has been assigned to Christian County since 1951. He reached the mandatory retirement age of 55 this month.
… Ferguson was among a group that was sent to Hopkinsville in the wake of a grand jury probe that had ended in the dismissal of most of the (Hopkinsville) police force.
"We were told there was a problem here and we were to correct it. And if we couldn't, someone else would replace us," he explained. …
"I hadn't been here more than a minute when I was involved in a high-speed chase on 41A, and I wondered what sort of place this was … it seemed very lawless. But now after working all over Kentucky, from the top to the bottom, from the east to the west, I knew I liked Christian County better than any other place, and that is all still true."
The story also described Ferguson's great fear that he might have to deliver a baby in an emergency someday.
Once he borrowed a road grader from the Highway Department and brought an expectant mother through deep snow all the way from North Christian to Jennie Stuart … "I'm not an obstetrician and never wanted to practice medicine without a license," he said.
Ferguson, who lied about his age to join the Army at the end of World War II, had worked as a police radio operator before attending the police academy in Kentucky. He eventually became both a helicopter and fixed-wing aircraft pilot for the state police.
Wrapping up the retirement story her mother wrote, Lee Ellen continued:
As the trooper with the longest time of service, he probably holds other records. He has policed in cars, planes, helicopters, boats, trains, fire engines, motorcycles and an armored vehicle.
"I even chased one car down on foot," he said, noting that the only thing he'd missed using on patrols was a horse.
He's written as many as 147 warning citations in one day and has gone through some 15 cruisers. He's unable to estimate how many tickets he's written.
"I'm sure there will be some who disagree with me, but I seriously don't think I ever wrote a ticket which wasn't deserved."
… "I have no regrets. I have had the pleasure of knowing the people of this county and also presidents, senators, governors (and) the people of neighboring counties.
"I've worked details from coal mine strikes, busing problems, many, many disasters, horrible traffic accidents, bombings, plane crashes, school integration at Sturgis, train wrecks and reports of little green men.
"It's been great, there was never a dull day."
After the funeral service, the procession left for Kentucky Veterans Cemetery-West.
The pall bearers were state troopers. A bag-piper played "Amazing Grace," and one of the officers presented to Lee Ellen the American flag that had draped her father's coffin.
He was buried with Mary D. and wore a blue, striped seersucker suit and a pink bow tie.