U.S. Sen. Mitch McConnell will use funds from his campaign to run 60-second advertisements on more than 100 radio stations in Kentucky to promote vaccination for the coronavirus, Reuters reports.
McConnell, the leader of Senate Republicans, has blamed misinformation for the low rate of vaccination among Americans, "which are fueling a rise in coronavirus cases, particularly in Republican-dominated states," Reuters notes.
"There is bad advice out there," he told Reuters. "Apparently you see that all over the place: people practicing medicine without a license, giving bad advice. And that bad advice should be ignored."
In Kentucky, the daily average of vaccinations is 28% higher in the last seven days than the previous seven, but remains below the level seen at the start of the month, and that was lower than June. Just under 52% of Kentuckians have received at least one dose of vaccine; the U.S. figure is 57%.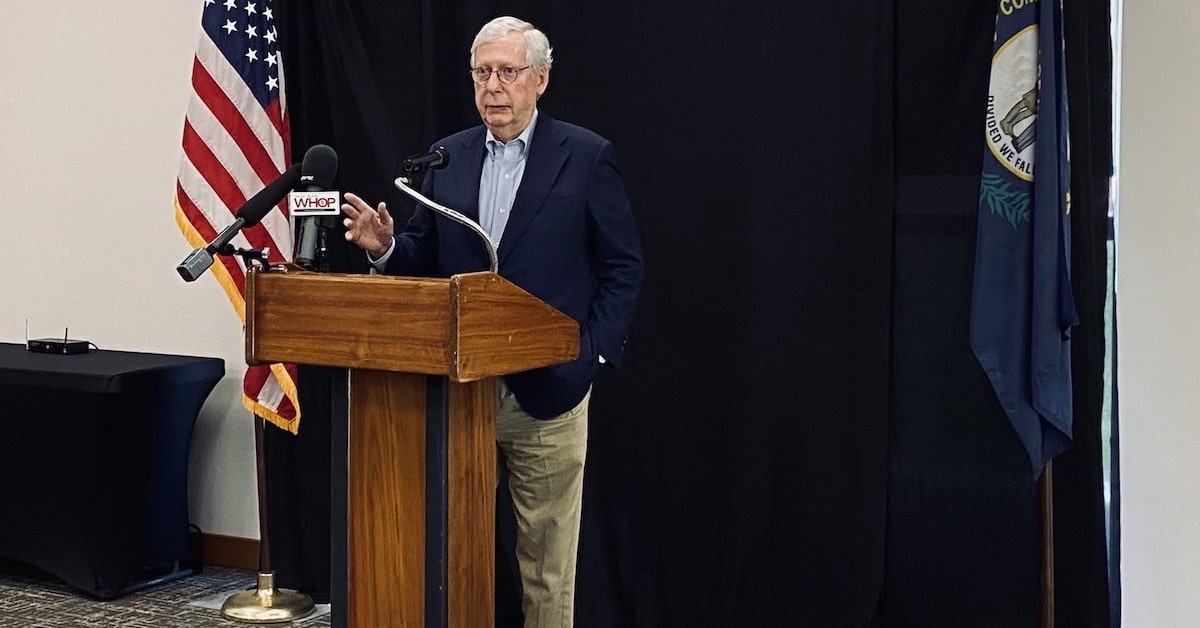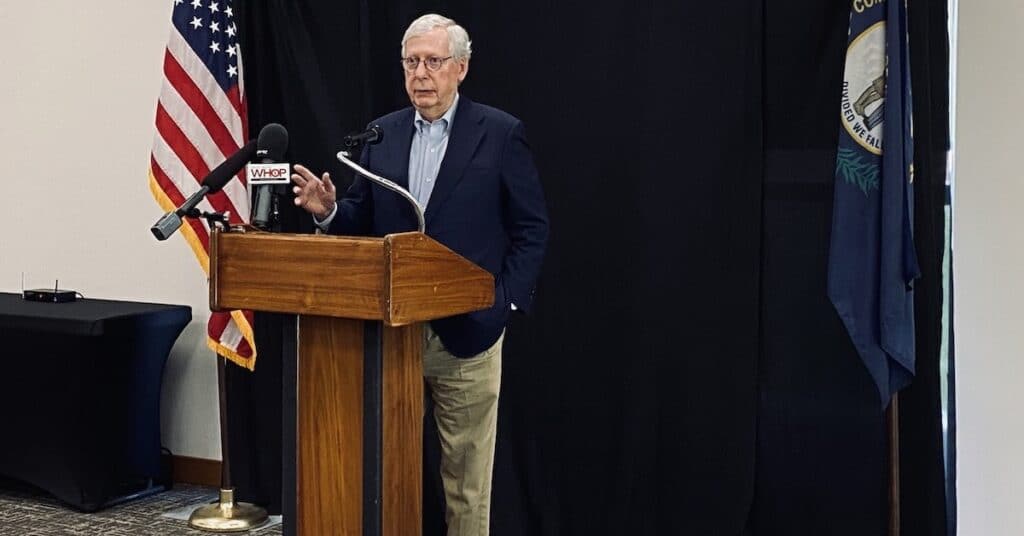 "Not enough people are vaccinated," said McConnell, 79. "So we're trying to get them to reconsider and get back on the path to get us to some level of herd immunity."
McConnell, in the radio advertisement, says the COVID-19 vaccine is "nothing short of a modern medical miracle" and says, "Every American should take advantage of this miracle and get vaccinated. It's the only way we're going to defeat COVID."
McConnell has promoted vaccinations since he was vaccinated in December, but has stopped short of criticizing other Republicans who have refused to say whether they've been vaccinated and "attacked the shots as unnecessary or dangerous," as Reuters puts it. But he endorsed recent remarks by Alabama Gov. Kay Ivey, who told reporters last week that it is "time to start blaming the unvaccinated folks" for the surge in cases, as well as criticizing people spreading misinformation about the vaccines.
Ivey wrote in The Washington Post that those "pushing fake news and conspiracy theories about this vaccine are reckless and causing great harm," adding that many of the unvaccinated are "being lied to."
McConnell, a native of Alabama, told Reuters, "I was encouraged by what the governor of Alabama said."
Reporter David Morgan of Reuters notes, "About 40% of Republicans are uncertain about the vaccine or are unwilling to be vaccinated, polling data published by the Morning Consult showed. That is more than double the 16% of Democrats who voiced those concerns."
Frank Luntz, a Republican pollster advising the Biden administration on vaccine persuasion, said he has been warning for months about politics being an obstacle to vaccination.
"The key here is to ensure that no one feels like they have to do it," Luntz told Morgan. "They have to want to do it. So, insulting them or mandating them won't work. Political messages won't work, unless you're Donald Trump. If Trump were to say to them: 'Hey, get the vaccine.' That would make a difference. But he doesn't do that. All he does is complain about the election."
Last week, Trump said, "People are refusing to take the vaccine because they don't trust (Biden's) administration, they don't trust the election results."