FRANKFORT, Ky. — After weathering years of closure due to renovations and then the coronavirus pandemic, the Museums of Historic Hopkinsville-Christian County won the Thomas C. Clark Award of Excellence on Saturday for their resilience and resourcefulness in uniquely trying times.
The honor was bestowed by the Kentucky Historical Society as part of the Kentucky History Awards, given during a breakfast ceremony in Frankfort to institutions, community groups and individuals from around the commonwealth. The Hopkinsville museums were recognized for battling adversity with innovative programming after the pandemic forced it to close in March 2020, only two weeks after its main facility, the Pennyroyal Area Museum, had reopened following a two-year, $1.5 million renovation and redesign.
"The creativity that came out of the team was remarkable, bringing Hopkinsville history to everyone," said Stuart Sanders, director of research and collections at KHS. "Since pandemic restrictions have been lifted, the museum has played host to meetings, tours and events to welcome children, nonprofit groups, out of town visitors, lunch-and-learn groups and more. … Guests have been captivated by the engaging new exhibit design and the interactive nature of the revitalization."
In an interview, Alissa Keller, executive director of the museums, recalled the double-whammy challenge of the COVID crisis just when the Pennyroyal Area Museum was primed to reconnect with Hopkinsville residents after having gone dark during the building overhaul.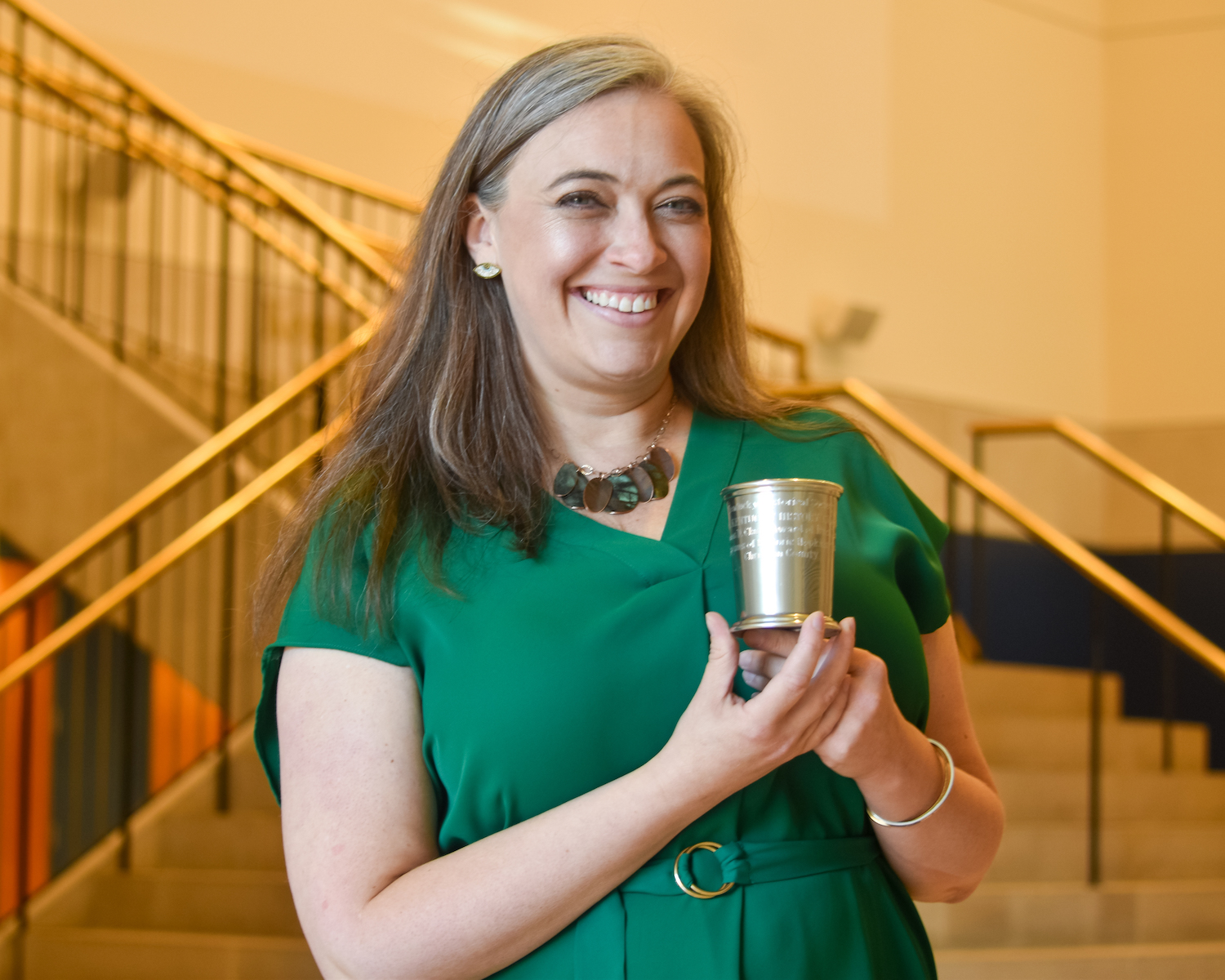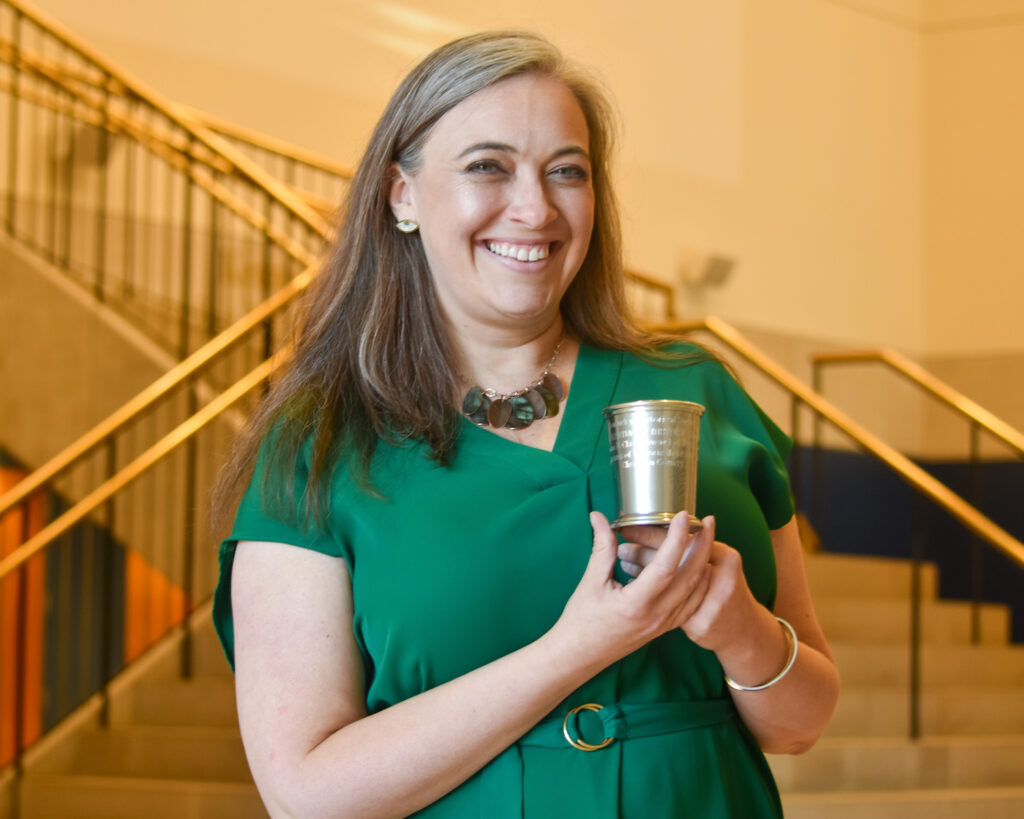 "We had just reopened after a two-year closure for a major renovation to our building and the creation of a uniquely custom-fabricated exhibit to tell the history of Christian County," Keller said. "We had our grand reopening on Feb. 27, 2020, and then closed again, on March 16, because of the pandemic. The excitement of reopening after being closed for so long, and then having that rug pulled out from under us — that was hard. Our mindset was that we were promoting a renovation that we'd been promising as a big change for two years, and we had two weeks to enjoy that and then flip the script again."
At that point, she said, "We had to rethink how we were going to reach people and keep local history and the stories of Hopkinsville alive, and how to wrap all of those narratives together during the pandemic, which was also making history."
The small staff — which recently has had only one full-time employee (Keller), two part-time employees and a pair of high school interns — swung into action with an array of virtual programming, including video content mostly shared on social media, and take-home educational kits on various subjects. They included the architecture and historic sites of downtown Hopkinsville, the Civil War, local African American history and the life of psychic Edgar Cayce, a Christian County native.
The museums also founded and maintained History on Tap, a local history series at Hopkinsville Brewing Co., that has developed a following among young professionals and others for its monthly talks on subjects including the story of Flying Ebony, the locally bred racehorse who won the Kentucky Derby in 1925, and an investigation into corruption in local government in the 1950s.
Scott Alvey, executive director of KHS, also noted the Hopkinsville museums' recent commitment to diverse programming and audiences in recent years. "In the past couple of years we've been seeing a lot of places nationwide focusing on acknowledging histories that have not been recognized in the past," Alvey said. "Hopkinsville has been leading in that area."
In the past year, for example, the museums hosted two events focusing on local Black history, including a program honoring the late Gloria Jean Watkins (the Hopkinsville native and feminist author best known by her pen name, bell hooks) and an Eighth of August celebration of emancipation traditionally observed by African American communities in Western Kentucky.
"We've tried our best to include diverse voices and reach diverse audiences, and we've had better successes in the past couple of years," Keller said. "We're trying and trying and trying to be more willing to listen and less willing to talk — to make sure we're not dictating a story but trying to capture what it really is. And we're tickled to death for the museums to be recognized for the work that we've done in Hopkinsville."
Hopkinsville's Jennifer P. Brown, the Kentucky Historical Society's current president and editor of Hoptown Chronicle, agreed.
"For Hopkinsville as a whole, I'm very proud that our museum has been recognized at this level," Brown said. "When the museum reopened from the renovation, and a month later had to close because of COVID, it was so disheartening, but Alissa and her employees did a tremendous job figuring out how to keep engaged with the community."
"I just think it's real important for a community to know its own story," she added. "As someone at the meeting said today, it's never a bad thing to go back and find what you lost. That's ongoing work, and there's nobody better to do it in Hopkinsville than the museums."
KHS also presented the following awards at the Saturday program:
Volunteer Organization: Green River Museum
Dr. James C. Klotter Lifetime Dedication to Kentucky History Award: David L. Morgan
Brigadier General William R. Buster Award: Bill Neikirk
Award of Distinction: Michael J. Denis
Kentucky Public History Intern Award: Emma Johansen
Publication Award (University Press): "The Fall of Kentucky's Rock: Western Kentucky Democratic Politics Since the New Deal"by George G. Humphreys
Publication Award (Private Press): "Waveland's Treasures" by Bob Willcutt & Susan Miller
Publication Award (Pamphlet/Newsletter): "The Shelby: Stories of Shelby County's Good Land, Good People, Good Living," the Shelby County Historical Society
Publication Award (Website): "Tour the Historic Bluegrass,"Blue Grass Trust for Historic Preservation
Community Impact Award: Huntertown Community Interpretive Park
Education Award (Public Programming): "Forgotten Spirits: Paducah's Contributions to Bourbon," Atomic City Tours
Education Award (Public Programming): "Summer Camp, The Bluegrass Experience: 1945 – 1972,"the Shelby County Historical Society
Education Award (Public Programming): Louisville Coalition on the History of Enslavement (Riverside, the Farnsley-Moremen Landing; Historic Locust Grove; Farmington Historic Plantation)
Education Award (Multimedia): "Furniture Friday" Video Series, South Union Shaker Village
Education Award (Special Projects): "The Journey: Unsung Stories of the Underground Railroad," the Frazier History Museum
Education Award (Exhibits): "Local Economies, Global Impacts," Shaker Village of Pleasant Hill