More than 250 people rallied Sunday afternoon outside the Christian County Justice Center, protesting police brutality against black residents of other communities and calling for local activism to unite Hopkinsville.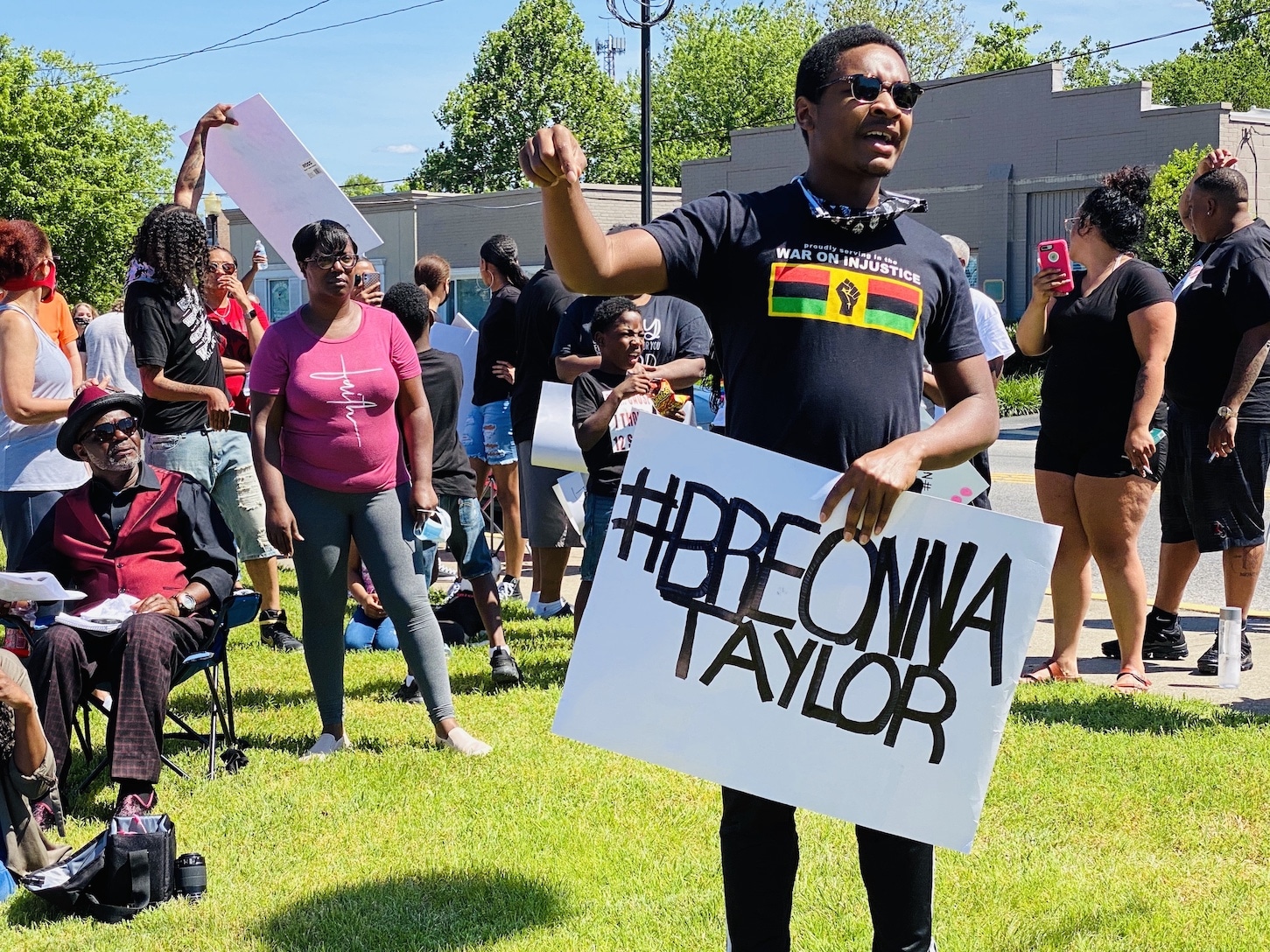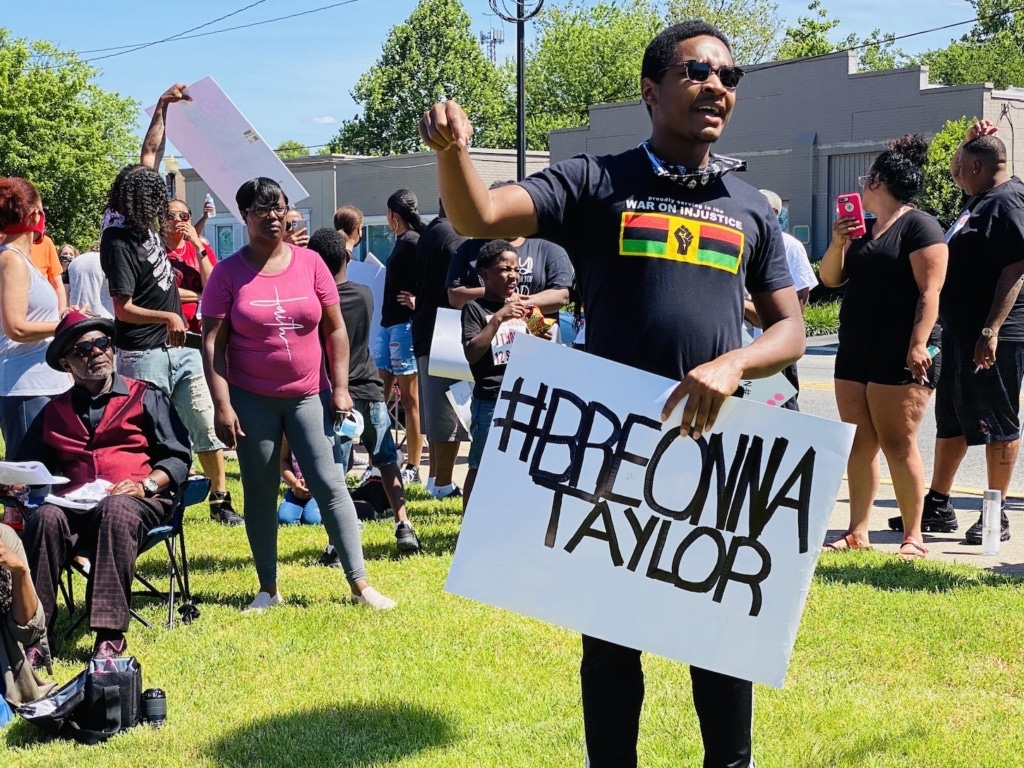 "Injustice anywhere is injustice everywhere," said the Rev. Perry Greenwade, citing the country's history of racial violence beginning with slavery. Recent outrage over the deaths of George Floyd in Minneapolis and Breonna Taylor in Louisville does not get to the root of protests, vandalism and looting that has erupted in cities across the county, he said.
"Our frustration goes back about 400 years," said Greenwade, referring to the period in American history when the first slave ships arrived in the colonies.
He challenged President Trump's recent tweet that described protestors as "thugs." Maybe, said Greenwade, today's so-called thugs learned the behavior from people who burned black churches where children were killed in the 1950s and '60s — and decades earlier lynched African American men accused of ogling white women.
"They taught us well," he said.
Greenwade was among several speakers. The rally went on for more than an hour, and passing cars honked as protestors on the sidewalk held up signs with messages such as "No justice, no peace" and "Black Lives Matter."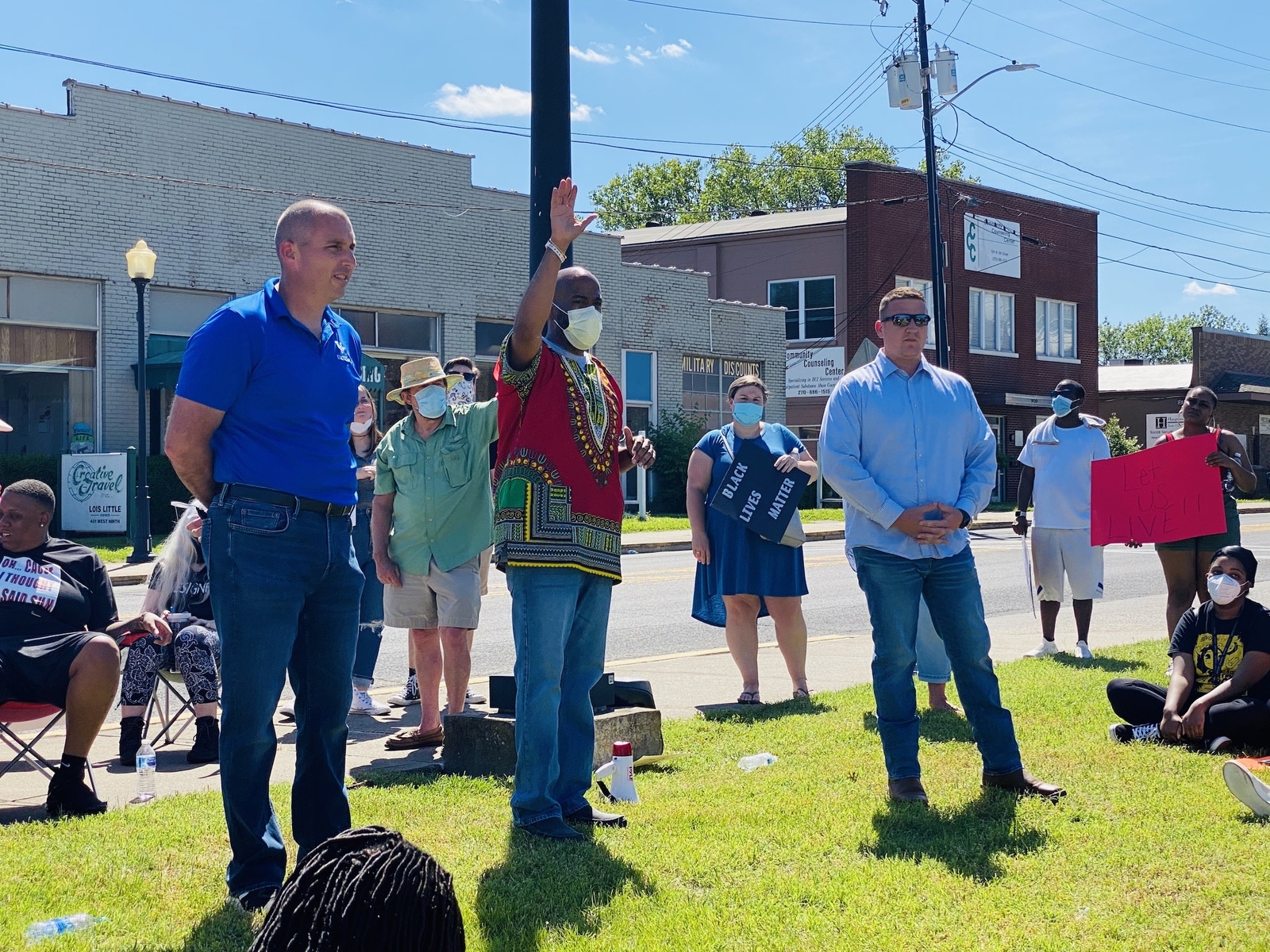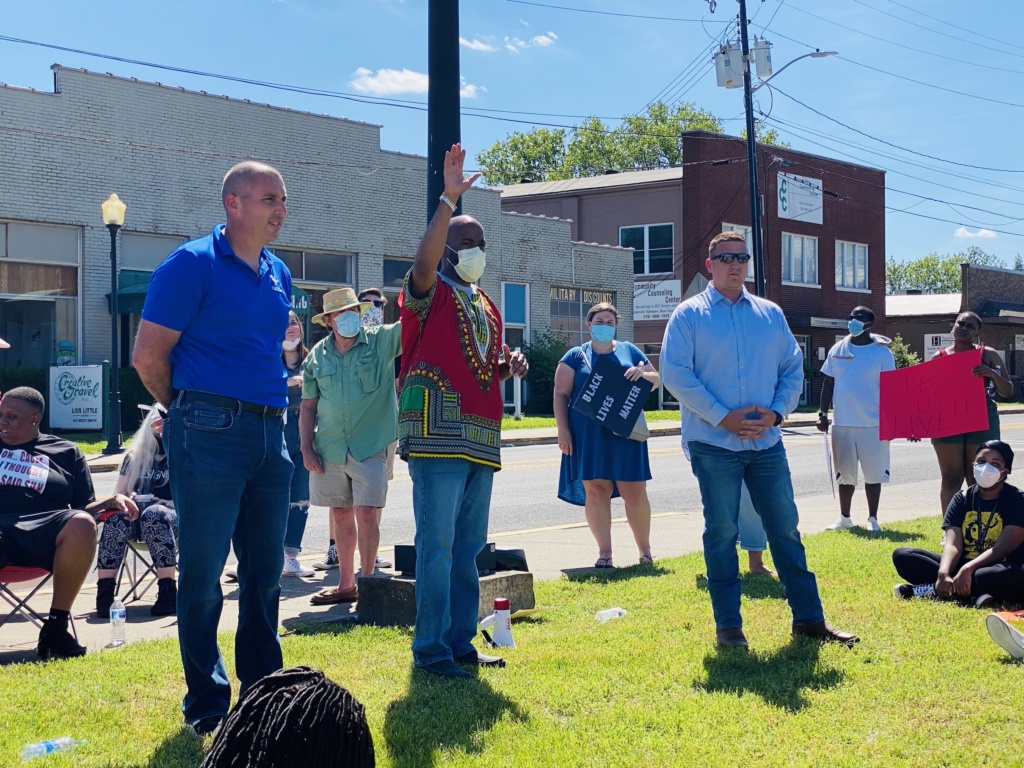 One man drove up in a minivan and quickly unloaded a case of bottled water. He said he had his children in the vehicle and couldn't stay but wanted to show his support. "I love what y'all are doing," he said. "Keep at it." Others arrived with bags of ice, coolers and more water.
A white minister who came to hear the speakers noted the significance of a T-shirt he appreciated. Its message read, "Stop White Silence," said the Rev. Wade Miller, pastor of First Christian Church. Miller, who moved to Hopkinsville about a year ago, said he appreciated the opportunity for the community to show support in difficult times.
Three black elected officials — fiscal court magistrate Magaline Ferguson and council members Darvin Adams and Jason Bell — attended and spoke briefly. It appeared the only other local officials presents were Police Chief Clayton Sumner and Sheriff Tyler DeArmond, both in plain clothes. Adams brought them forward to speak.
Sumner said he could not honestly say he understands what black men face, but he said he could listen.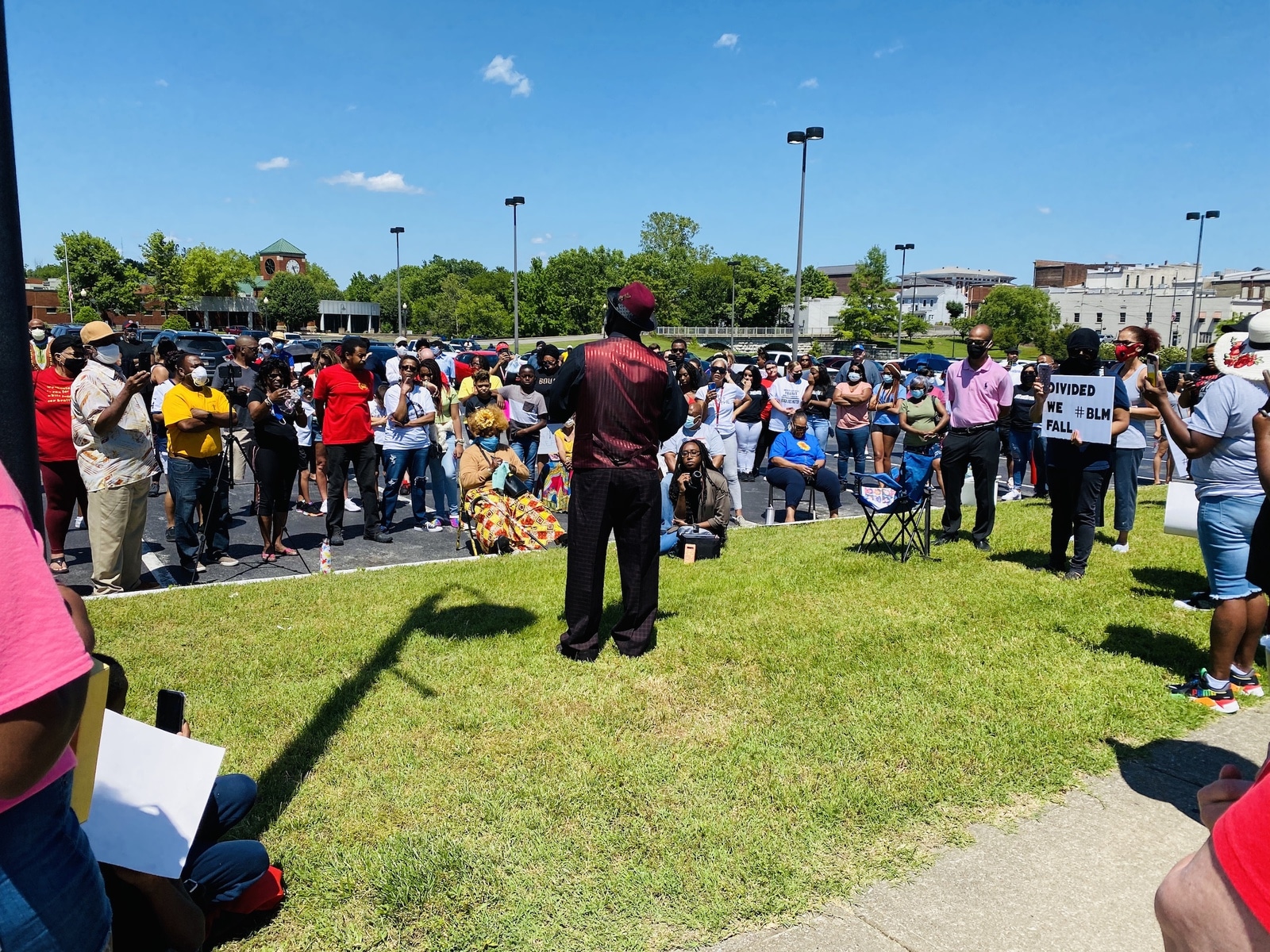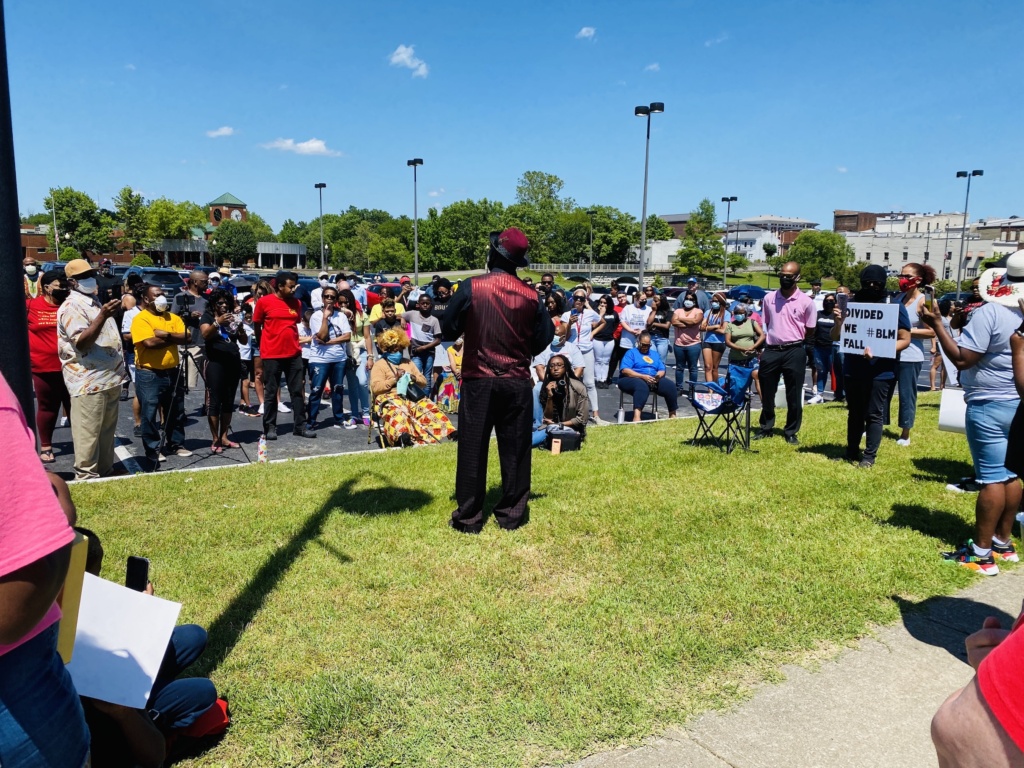 "There are failures in the criminal justice system. Does race play into that? Damn right it does," he said. "But understand this. Just like I teach my kids (that) you don't judge one person or a whole race or a whole gender, or ethnicity, off the actions of a few, don't do that to the officers either."
DeArmond said he's willing to have tough conversations about the role of race in the community.
"The reason why I'm even here today and the reason why I'm not in my uniform is because we are united … we are in this together," he said.
He pledged to be transparent and said his office is open to anyone who wants to talk. "You have my word on it," he said.
Amy Cox, a parent and activist who helped organize the rally, encouraged everyone to stay involved.
"I'm angry. You're angry," she said. "Let's figure out how to come together and stop this. … we've got to stay together."
Donovan Pinner, who recently returned to Hopkinsville following his graduation from Morehouse College in Atlanta, carried a poster memorializing Breonna Taylor, the 26-year-old woman who was shot and killed when Louisville police used a battering ram to enter her residence on a no-knock warrant.
"It could happen to me. It could happen to you," he said.
So many black people have been killed by police in the past several years, it's impossible to remember all their names, he said. He challenged the crowd to work to change the system that allows violence to persist.
"Your power is to vote," he said. "Your power is to make sure your census is filled out."
The rally concluded with a march from the justice center to Virginia Park. Hopkinsville police secured intersections as the group made its way through downtown.