Home renovation shows are HGTV's bread and butter, but an upcoming series called "Home Town Takeover" has a grander goal: they want to make over a whole community.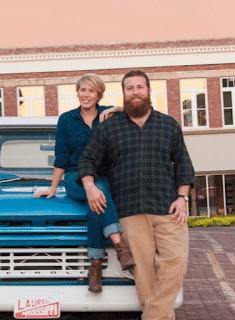 HGTV is seeking applications from towns with a population under 40,000 through Feb. 4. Selected public spaces and individual homes in the winning town will get renovated or revitalized, David Haynes writes for HGTV. The process and results are to be aired in a six-episode special in 2021.
Erin and Ben Napier will host the new series; they got the idea of a whole town makeover from fans responding to their series "Home Town," in which they renovate houses and public spaces in their home of Laurel, Mississippi. "Renovating one house at a time is an awesome experience. But the chance to support an entire town, where we help bring a community back to life — that's something we've always wanted to try," Ben Napier told Haynes.
HGTV says, "Applicants should strive to highlight aspects of their town that make it special, fascinating, historic or unique — including distinctive features like vintage period architecture, special destinations or a classic main street." Apply here.
(This story first ran on The Rural Blog, which is published by the Institute for Rural Journalism and Community Issues at the University of Kentucky.)