Teenagers' use of electronic cigarettes continues to surge, increasing to more than 5 million in 2019 from 3.6 million in 2018, a 39% jump, according to the latest annual National Youth Tobacco Survey.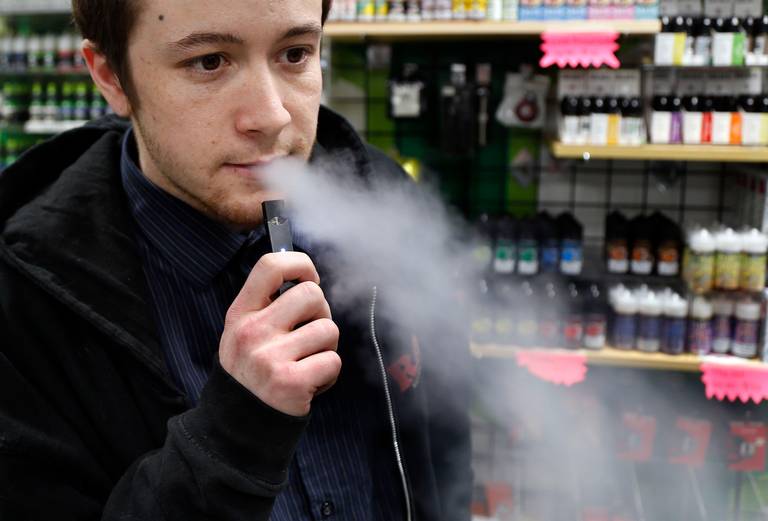 The survey found that 6.2 million middle- and high-school students are using tobacco products, and that 5.3 million of them, or 85%, are using e-cigarettes, which are generally called "vapes." (Many of the devices don't produce a vapor, which has liquid particles suspended in the air; they make an aerosol, which has liquid and/or solid particles suspended in a gaseous medium.)
Use of e-cigarettes, particularly those with high levels of nicotine, places youth at risk for nicotine addiction, which could harm brain development, experts say. It also exposes them to other harmful substances such as heavy metals, volatile organic compounds and ultrafine particles that could harm the lungs. Further, research shows that youth who use e-cigs are more likely to start smoking tobacco.
"The youth vaping epidemic continues to threaten the immediate and long-term health of adolescents and teens in this country by exposing them to nicotine and a host of other toxins that are known to damage their developing brains and bodies," Ben Chandler, president and CEO of theFoundation for a Healthy Kentucky, said in a news release.
The Fayette County Board of Education voted Dec. 5 to become the second school district in Kentucky to sue e-cig companies, following the lead of Bullitt County. Both boards say the booming use of e-cigs disrupts learning and causes discipline problems.
A new Centers for Disease Control and Prevention Morbidity and Mortality Weekly Report says tobacco use is the leading cause of preventable disease, disability and death in the U.S., and about nine in 10 adult cigarette smokers start before age 18.
The National Youth Tobacco Survey collected data from about 19,000 middle and high schools students across the country.
It found that in 2019, an estimated 53.3% of high-school students (8 million) and 24.3% of middle school students (2.9 million) reported having ever tried a tobacco product, including e-cigarettes.
Current use, which includes those who said they had used any tobacco product in the past 30 days, was reported by 31.2% of high-school students (4.7 million) and 12.5% of middle school students (1.5 million).
E-cigarettes were the most commonly cited tobacco product currently used by 27.5% of high school students (4.1 million) and 10.5% of middle school students (1.2 million), followed in order by cigars, cigarettes, smokeless tobacco, hookahs (water pipes) and pipe tobacco, says the CDC report. This is the sixth year in a row that e-cigs were the most commonly used tobacco product for both middle- and high-school students.
Among the young e-cig users, the survey indicated that nearly 1 million use them daily, and about 1.6 million use them 20 or more days per month. Most users reported Juul as their usual brand.
"More than one in four high school students and one in 10 middle schoolers are using e-cigarettes in 2019, and at least a quarter of them are likely addicted. Many of these kids would never have touched a cigarette," Chandler said. "And too many of them think e-cigs are 'cool,' and that there's little or no harm in even intermittent vaping. Neither is true. E-cigs are just as insidious for youth as any other tobacco product."
The survey asked the students about their perceived harm. It found that among all of the students surveyed, 28.2% perceived "no harm or little harm" for intermittent use of e-cigs; 16.4% for hookahs; 11.5% for smokeless tobacco products; and 9.5% for cigarettes.
The survey showed signs of nicotine addiction. Among current users of any tobacco product, 24.7% reported experiencing cravings to use such products during the 30 days before they were surveyed, and 13.7% said they wanted to use a tobacco product withing 30 minutes of waking. Also, 57.8%, said they wanted to quit, and 57.5% said they had stopped using them for at least one day or more because they were trying to quit.
In an effort to help Kentucky's teenagers stop vaping, the state Department for Public Healthhaslaunched a free service called "My Life, My Quit," which allows teens to text or call a toll-free number, 1-800-891-9989, and be connected with a "quit coach" who will provide up to five confidential, free sessions to help the teenager create a personalized quit plan.
Chandler said the tobacco industry, which has invested in e-cigs, is using its same old tactics to manipulate a new generation of nicotine addicts. The survey found that 86.3% of students had been exposed to tobacco-product advertisements or promotions; 69.3% reported exposure to e-cigarette marketing; and 81.7% reported exposure to cigarettes or other tobacco products.
One of the primary initiatives of the foundation is to raise awareness about the dangers of smoking and vaping, including promoting policy initiatives to decrease tobacco use, especially among youth.
Chandler said, "We have several policy answers and they're proven to work. We need to tax vapes, at least the same amount as cigarettes. We need to raise the age for buying tobacco from 18 to 21, and assess stiff penalties on retailers that sell to underage buyers.
"The tobacco industry outspends public health more than 73 to one on marketing campaigns, so we also need to invest more resources into youth prevention. Kentucky gets more than $500 million in revenues from tobacco, yet spends less than $4 million on prevention.
"And we should ban flavors. They're a key reason kids are drawn to e-cigarettes, and their appeal to kids is why the FDA banned flavored cigarettes a decade ago. The only thing that's changed is that the industry has found a new kind of tobacco product to dress up with kid-friendly flavors. "
The CDC report says that among students who reported ever having tried e-cigarettes, the three most commonly selected reasons for use were curiosity (55.3%), use by a friend or family member (30.8%), and the flavors (22.4%).
The latest data for e-cigarette use among Kentucky's teens is from 2018. It shows that e-cigarette use nearly doubled between 2016 and 2018, with more than one in four high Kentucky school seniors and one in seven of its 8th graders reporting use in 2018, according to the Kentucky Incentives for Prevention study.
(Kentucky Health News is an independent news service of the Institute for Rural Journalism and Community Issues, based in the School of Journalism and Media at the University of Kentucky, with support from the Foundation for a Healthy Kentucky.)