Most Kentucky counties are still in the high-risk category that calls for the general public to wear masks in indoor public spaces, according to the latest ratings by the federal Centers for Disease Control and Prevention.
Of the 120 counties, 65 are in the high-risk zone and 47 are in medium risk, in which the CDC says residents who are immunocompromised or at high risk for severe illness should talk to a health care provider about "additional precautions, such as wearing masks or respirators indoors in public. If you live with or have social contact with someone at high risk for severe illness, consider testing yourself for infection before you get together and wearing a mask when indoors with them."
Only eight counties are rated at low risk, but none were in that category last week, the first week of CDC's new rating system. Last week, only 18 counties were medium risk and 102 were high risk.
Even in low-risk counties, CDC recommends residents "stay up to date with COVID-19 vaccines and boosters" and "maintain improved ventilation throughout indoor spaces when possible."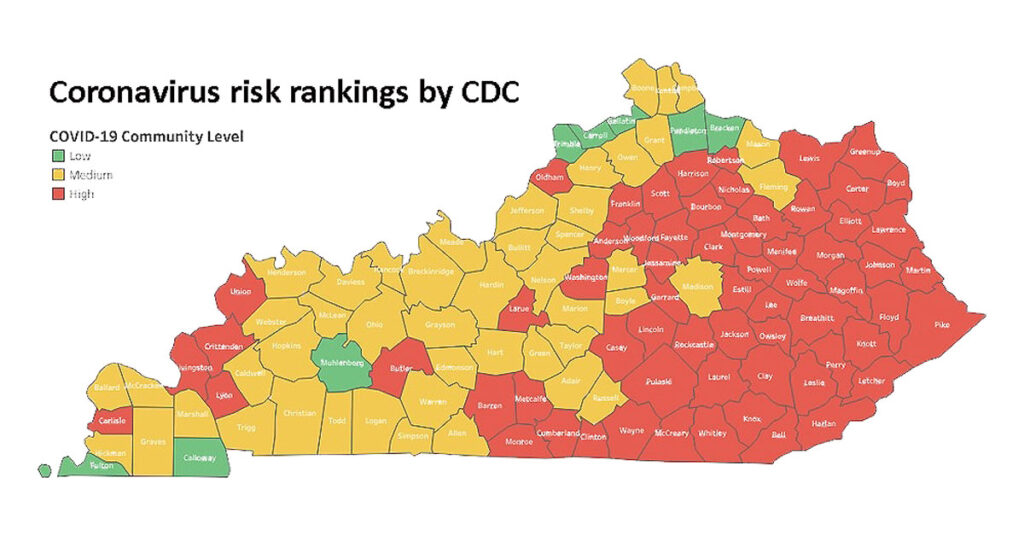 Kentucky is 5 percentage points below the national vaccination rate, with 60% of the eligible population (5 and older) fully vaccinated, and 43% of those with booster shots, which research shows are needed against the dominant Omicron variant of the coronavirus.
The pace of vaccinations continued to slow Friday, with the seven-day average falling to 1,772 per day, the lowest since vaccines became widely available.
But the measures of the pandemic in Kentucky continued to fall. The share of Kentuckians testing positive for the virus in the last seven days dropped for the 40th straight day, to 6.49%.
The state reported 2,076 new virus cases Friday, lowering the seven-day average to 1,747, half what it was 11 days ago. Almost 23% of the new cases were in Kentuckians 18 and younger.
NYT map, adapted by KHN; click on it to enlarge.
Kentucky's seven-day infection rate is 19.5 daily cases per 100,000 residents, less than half what it was just eight days ago. But the rate remains the fifth-highest among the states, and the state's hospitalization rate is third, trailing only West Virginia and Georgia, according to CDC data ranked by The New York Times.
Kentucky hospitals reported 782 patients with COVID-19, down 75 (almost 9%) from Thursday, with 155 of them in intensive care and 75 on mechanical ventilation. One of those was former Louisville radio host Wayne Perkey, according to a Facebook post by his former colleague, Steve Lee Cook.
Intensive-care units in five of the 10 hospital regions were more than 80% full, but few of those ICU beds were occupied by COVID-19 patients, except in the easternmost region (Lee to Pike counties), where 34 COVID patients occupied 28% of the ICU beds. That was the same number of ICU COVID patients as in the Lexington area, and just three fewer than in the Louisville region.
The CDC rankings are driven by new virus cases, COVID-19 hospital admissions and the share of staffed inpatient beds occupied by patients with the disease. Thus, while new-case rates are high in some counties, their relatively low hospital numbers keep them out of the high-risk category.
The state attributed 45 more deaths to COVID-19, pushing its pandemic toll to 14,018. In the last seven days, the state has reported more than 37 deaths per day, about 50% higher than the average was a month ago. Deaths are a lagging indicator of the pandemic, and Gov. Andy Beshear said Thursday that deaths will "tail off," just as other pandemic metrics have.